The Weekly Scale: May 31st, 2021
This week at MarketScale, we kicked off a new series with post-show drinks, explored the labor shortage companies are facing, and filmed the pilot episode of our newest original series – The Next Great American Food Franchise. Go ahead and cover up your firework burns. It's the start of a new week, and it's time to scale up.
COVID vaccinations are flowing freely, and businesses are opening back up — but where are the workers? Tyler Marpes, Director of Business Development, joined Beyond Technology by Acrelec to outline the labor challenges facing the QSR industry and how to find your competitive advantage in hiring and retaining talent.
Dustin Odham is no stranger to MarketScale, having been a guest on EdTech Today and the Voices of eLearning. This week on the Change Starts Here podcast, Odham explored how he wants to help schools recognize their biggest assets — their educators — and help them prevent the teacher burnout that we have seen in the past year.
Why do we build the technology systems we build? What goes on behind the scenes? This week, we launched our newest series, There's More to IT. Host Jason Claybrook will explore the foundational questions about the technology that's driving us all forward. Claybrook and his crew of co-hosts will be exploring the cybersecurity behind our nation's critical infrastructure, how municipalities need to approach technology rollouts, and the sustainability behind cryptocurrencies in upcoming episodes.
The world has opened back up, summer is just starting, and business is booming. This week on Say Yes To Travel, host Sarah Dandashy visits with one former hotel exec and explores his goal to create an ecosystem of connectivity in which people can travel from their door to their destination and trust that their personal health security will be verified every step of the way.
The MarketScale Retail Roundtable is back and, this time, it might be our most star-studded affair yet as we explore how brands are building the retail experience for brand loyalty.
The panel will include:
John Federman, JRNI
Ned Hill, Position Imaging
Laura Davis-Taylor, InReality
Derek Alley, VCC
Make sure to follow along for future roundtables. We will also be diving into the primary obstacles preventing renewable energy from providing a larger piece of the energy demand on June 7th.
I'll be back next Monday for The Weekly Scale but, until then, if you know of a story that you want us to cover, let us know with the hashtag B2BNeverSleeps.
Follow us on social media for the latest updates in B2B!
Twitter – @MarketScale
Facebook – facebook.com/marketscale
LinkedIn – linkedin.com/company/marketscale
Latest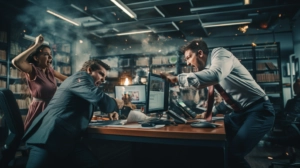 September 22, 2023
The kind of news that is delivered everyday serves as a grim reminder of the escalating violence across the U.S. Evidently, the need for proactive measures to ensure safety has never been more pressing. Such violence is not limited to any particular locale. It's actually permeating in so many different areas once considered […]
Read More