Innovation and Challenges in Cashless Transactions with Carly Furman
Cashless transactions are quickly becoming the preferred method of shopping in North America. Tapping credit cards, smartphones, and other digital devices used for purchasing are quick and easy, the way shoppers like. And behind the simplicity of these transactions lies a complex network of products, systems, and regulations that enable this convenience. Carly Furman, CEO of Nayax North America, shed some light on the compliance, standardization, and innovation behind the cashless transaction experience. 
EMV (Europay, MasterCard, and Visa) is one of the key drivers making cashless transaction simplicity a reality. The EMV chip allows encrypted, dynamic, one-time transactions to the processor. This technology is essential for making purchases in unattended environments. 
The backend process of cashless transactions is complicated for the uninitiated. "It's hard to keep up with the security standards, as well as ensure that you have a payment experience that is quick and seamless for the consumer, and also positive for the retailer," Furman said. "So, this is where using a payment solution provider really comes into play. It's not just about that piece of that terminal, it's the easy onboarding, it's the assurance that you're going to be able to take all, and any available payment methods, in all the ways consumers want to pay." 
Retailers look for a cashless payment solutions provider to keep up with standards, security issues, and advancing technology. "This is what we do," Furman said. "It's what our name is based on, ensuring compliance and security and staying up-to-date," Furman said. "This is why we have the relationships with the card brands, with the banks; this is why we have the regulatory arm of our business." 
Utilizing EMV protocols provides a higher acceptance rate when taking a credit card. "At the end of the day, you can't sell your products, services, and goods as a retailer, unattended or not, if you can't give people an easy and efficient way to pay that ends up in a successful transaction," Furman said. 
Latest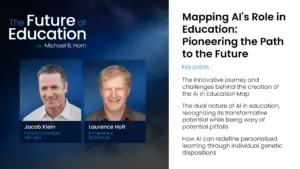 October 2, 2023
Mapping AI's role in education should be a critical step in bringing together innovative technology-based solutions with the expertise of human educators. With rapid advancements in artificial intelligence and an increased reliance on technology-driven educational solutions, the education landscape is on the brink of a significant transformation. AI promises highly personalized learning experiences, efficient administrative […]
Read More