Standardizing Residential RF and Connected Technology
If you're into the nuts and bolts of today's residential tech, then you've got to listen to this episode of Pro AV Today. Host Ben Thomas teams up with Mariusz Malkowski, Co-Founder and CTO of Trident IoT and Mitch Klein, Executive Director of the Z-Wave Alliance to dig into everything from accessibility, standardization, product development and more in residential tech. They also dive into protocols like Bluetooth, WiFi, and Z-Wave and why these aren't just tech buzzwords—they're the building blocks of the smart homes we're all becoming familiar with.
But here's the real kicker: it's not just about knowing your Z-Wave from your Bluetooth. It's about making sure all these technologies can actually work together. Mariusz and Mitch lay down some serious knowledge about why standardization is the name of the game. It's what ensures your smart doorbell, your automated thermostat, and your intelligent lighting system can all sing in harmony. In other words, standardization is the unsung hero making sure all your devices can play nice.
They also get into the challenges the industry is facing. Whether it's security concerns or compatibility issues, they dig into what's holding us back and what we need to do to move forward. And since we're all a little curious about what the future holds, they even share some thoughts on what's next in the world of residential tech.
Whether you're in the Pro AV industry or just a tech aficionado, this episode is a must-listen. So plug in and check it out.
Latest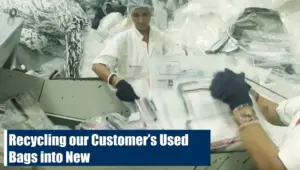 December 6, 2023
This video focuses on EcoLOK4, a groundbreaking product by CONTROLTEK that exemplifies innovation in sustainability. It highlights the process of transforming landfill waste into new deposit bags, with 90% of each bag's material being repurposed trash. This initiative not only reduces waste but also closes the sustainability loop, demonstrating CONTROLTEK's commitment to environmentally friendly […]
Read More