Technical Best Practices for Planning Conferences and Physical Events
In this episode of Pro AV Today, host Ben Thomas sits down with Russ Callahan from Quest Events to explore the evolving landscape of event planning in a post-COVID world. As the events industry faces new challenges, they delve into crucial considerations, technological advancements, and the importance of knowledge transfer for successful event execution.
Key Points:
Global Preparation & Emergency Planning: The post-COVID era demands a more global approach to event preparation. With the inability to obtain pandemic insurance, event planners must be proactive in emergency planning and crisis management. Russ highlights the importance of leveraging technology to ensure preparedness for unexpected scenarios.
The Role of Technology in Crisis Management: Technology has become a critical tool in event planning, particularly in crisis situations. From communication systems to digital signage, event organizers can harness technology to manage emergencies effectively and keep attendees informed and safe.
Training & Knowledge Transfer: The pandemic led to a loss of tribal knowledge within the events industry, making training and knowledge transfer more important than ever. Russ emphasizes the need for experienced professionals to share their expertise with newcomers and foster a collaborative learning environment.
Navigating Union Labor & Local Regulations: Understanding union labor and local regulations is crucial for smooth event execution. Event planners should familiarize themselves with venue-specific rules and build positive relationships with union representatives to ensure successful staffing and operational planning.
Balancing Vision with Realistic Constraints: While event planners often envision grandiose events, it's essential to strike a balance between creativity and practicality. Knowing the budget and understanding technical limitations allows for informed decision-making and successful event outcomes.
Join Ben and Russ as they discuss how event planning has evolved, providing valuable insights to help event organizers navigate the new world of post-COVID event management.
Latest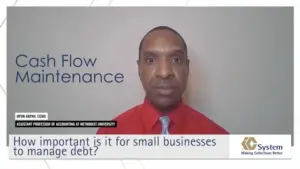 December 8, 2023
Effective debt management through a robust accounts receivable system is essential for small business cash flow and growth, necessitating automated payment schedules and strategic policy adjustments. Collaborating with a collection agency as a strategic partner can enhance revenue recovery while preserving positive customer relationships. How critical is effective debt management for the financial health […]
Read More