The Importance of Partner Certifications in Pro AV
In the latest episode of Pro AV Today, host Ben Thomas delves into a vital aspect of the Pro AV industry: partner certifications. Joined by Zoom's Mark Barragan and Jeff Fox, they explore collaboration, standards, and the relationship between hardware manufacturers and software providers like Zoom. If you're interested in Pro AV certifications, collaboration in the tech industry, or the future of integrated technology, this episode is a must-listen.
Collaboration Across the Pro AV Industry: The podcast opens with a discussion about the significance of collaboration between Pro AV professionals, software providers, and hardware manufacturers. Whether it's Zoom certification or ADA certification, the alignment of devices and standards is critical in today's Pro AV landscape.
The Evolution of the Pro AV Community and Certification: Reflecting on recent trends, including changes spurred by the pandemic, Mark details how the Pro AV community has evolved to embrace broader collaboration with various platforms, including Zoom. The need for video collaboration in every space has become a game-changer in Pro AV certification.
Understanding the Zoom Certification Process: Jeff provides an inside look at Zoom's certification process for Pro AV manufacturers, outlining a streamlined approach. From third-party labs to integration into Zoom's ecosystem, the process is clear-cut and designed to support the broader AV integration community.
The Impact of Pro AV Certification for End Users: Emphasizing the value of certification for large-scale deployments, Mark illustrates how it provides assurance for both Pro AV integrators and end-users. The podcast highlights how certification is a must for those deploying collaboration spaces across an enterprise.
If you're a Pro AV integrator, technology manufacturer, or anyone interested in the future of Pro AV, collaboration, and certification, this episode offers valuable insights from industry experts at Zoom. From collaboration trends to the importance of certification in Pro AV, you'll gain a comprehensive understanding of the current landscape and future direction.
Latest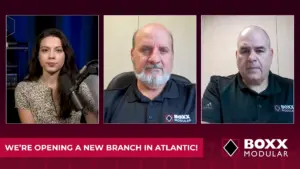 December 4, 2023
In an era where construction innovation is reshaping the industry, modular construction's growth continues to rise. In this episode of Built Modular, Boxx Modular's strategic expansion into Moncton, Atlantic Canada takes center stage. Host Gabrielle Bejarano welcomes Charles Landry and Ray Girouard to explore the implications of this venture. Bejarano, Landry, and Girouard discuss […]
Read More