Deep Dive into Innovations in Luxury Retail
As the landscape of luxury retail is rapidly evolving, a fresh perspective and innovations in luxury retail comes to the forefront from Lauren Barrie, the Group Head of Luxury Retail at Frasers Group. In a world still recovering from the effects of the pandemic, this topic is more timely than ever as we explore how luxury retailers are innovating and adapting. One noteworthy statistic: one in three customers that shop with Flannels, a division of Frasers Group, are experiencing luxury for the first time.
What does the future of luxury retail look like, what are the current innovations in luxury retail, and how is it changing to accommodate both traditional and new consumers?
In this episode of Retail Refined, host Melissa Gonzalez is joined by Lauren Barrie, Group Head of Luxury Retail at Frasers Group. They delve into the current state of luxury retail, including Frasers Group's expansion plans, the innovative in-store experiences they're offering, and the strategies they employ to cater to different types of luxury consumers.
Gonzalez and Barrie also discuss…
● Frasers Group, started with a £10,000 loan, is now a FTSE 100 company with over 900 stores across 30 countries, offering a mix of sports, premium, and luxury products.
● They are strategically situating their luxury stores (like Flannels) in towns and cities that previously lacked access to luxury, thus tapping into an underserved market.
● Lauren discusses their experiential retail plans, which include bringing in new categories and services, from the world's first beauty changing rooms to introducing a world-class fitness studio.
Lauren Barrie is the Group Head of Luxury Retail at Frasers Group. She leads the luxury sector of the business, overseeing renowned brands like Flannels, Amara Home, and 18 Montrose. Barrie's expertise has been integral in navigating the luxury retail segment in an ever-changing market.
Latest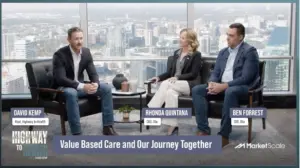 December 7, 2023
As of recent times, the healthcare industry has been progressively shifting towards value-based care, a model that emphasizes patient outcomes over the quantity of services delivered. This transition represents a significant shift that promises to enhance patient experiences and outcomes while controlling healthcare costs. With a growing emphasis on this approach, especially over the […]
Read More