Upskilling and Upscaling for the Future at IKEA
As AI advances with technologies such as GPT-4, companies are beginning to come to terms with the fact that "soft skill" education is crucial in creating a future industry for the retail world. GPT-4 functions as a natural language processing tool driven by tech that can use its language model for hard skills such as answering questions and assisting with tasks such as composing emails, essays, and code.
How, exactly, is the rapid development of AI and the hard skills it is equipped with influencing the retail industry's workforce?
On this episode of Retail Refined, Host Melissa Gonzalez, live at Shoptalk Europe 2023, discusses the importance of adapting to new technology for the future of IKEA with the Group People & Culture Manager of IKEA Retail (Ingka Group), Ulrika Biesèrt. With that in mind, Ingka Group and IKEA plan on implementing 3,500 new jobs and opening 17 new locations in the United States alone. Already, the group has invested over ten million euros on educational programs to promote said soft skills as "hard skills."
"Technology, advancement, digitalization, and automatization will have a huge impact on us as coworkers and we [as a company] really need to understand [as to] what we need to do to reskill and upscale," Biesèrt said.
Gonzalez and Biesèrt also discussed…
● How everyone can thrive in the current work environment
● The mismatch between the skills workers have and the skills they need
● The future of IKEA with reskilling and upscaling through democratic learning
"I hear us talking about that there is a need of 'soft skills.' I think they are hardcore skills in the future. So, lead organization, artificial intelligence. Where will people add value? It's innovation, it's creativity, it's more emotional intelligence. How do I meet the customer?… and I think we need to be training them as hardcore skills and not treating them as soft skills," Biesèrt explained.
Ulrika Biesèrt, IKEA Retail (Ingka Group People & Culture manager), is a member of the Ingka Group Management team. It is key to her role to ensure the company is always guided by its purpose and values, keeping customers and co-workers at the heart of what it does so that both business and people grow together.
Latest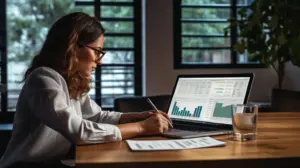 October 4, 2023
The intersection between security and financial acumen often gets overshadowed in a constantly changing economic landscape. While security is essential for safeguarding assets and ensuring continuity, its perceived monetary value is mired in misconceptions affecting company profitability. For many, security is viewed primarily as an expense rather than a potential cost-saver. However, understanding […]
Read More