Spartan Radar Is The Unbeatable Choice for Next-Level Road Safety
For over three decades, Spartan Radar has been synonymous with safeguarding America's heroes using cutting-edge radar technology, ensuring the protection of advanced fighter jets like the F-15 and F-22. Now, this same remarkable technology is being harnessed to enhance safety for commercial vehicles and truck drivers alike. Recognizing the impracticality of grounding an F-18 for repairs, Spartan Radar's engineers are dedicated to adapting their expertise from the skies to the road, employing their vast experience in developing safety critical systems to protect drivers on a daily basis.
Operating from their base in Orange County, Spartan Radar is far from your typical startup teeming with fresh graduates. Instead, their team comprises seasoned professionals who have dedicated their entire careers to constructing safety critical technology for America's warriors. Today, their mission revolves around keeping drivers safe on the roads. With an unwavering commitment to safety, Spartan Radar's success hinges on their ability to leverage advanced technologies like their Spartan Radar System, ensuring the protection of all stakeholders.
At the heart of Spartan Radar's portfolio lies their flagship product, Ago—a software solution designed to enhance driver assistance systems. By improving resolution and range, Ago enhances automatic emergency braking capabilities, effectively shielding fleets from the perils posed by distracted and reckless drivers. Spartan Radar's software is specifically engineered to enhance forward-facing radar systems, extending their visibility to an impressive two hundred meters. With this heightened performance, drivers can now discern even the finest details, differentiating between a cyclist and a car or identifying vulnerable road users, ultimately fostering a safer environment for all.
The core values of service and innovation drive Spartan Radar's dedicated team, making them a company that prioritizes the well-being of both employees and customers. Continuously seeking out groundbreaking technologies that simplify lives, Spartan Radar acknowledges the indispensable role of drivers. This dedication fuels their commitment to developing advanced aftermarket products like Hoplo, which utilizes their software to eliminate blind spots alongside and behind trailers. With Hoplo, drivers gain a heightened sense of security during reverse maneuvers, ensuring they can spot motorcycles or cars that may be lurking in close proximity, thanks to radar visibility even at short ranges. Spartan Radar's comprehensive product range effectively creates a 360-degree shield of protection for fleets and drivers alike.
Drawing inspiration from the ancient Spartan warriors and the strength of their phalanx formation, Spartan Radar is on a mission to establish a radar-enabled phalanx around every truck and trailer on the road. Their transformative Battle-Forged Technology will revolutionize road safety, providing a new level of security for fleets. To explore the benefits of Spartan Radar's products for your own fleet, reach out to them directly. Their team will collaborate with your OEM, trailer upfitter, or aftermarket reseller to equip your fleet with the game-changing protection of Spartan Radar.
Latest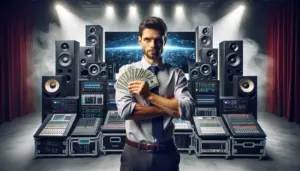 December 8, 2023
Mastering AV sales strategies in a global professional audio-visual (Pro AV) market, poised to reach $79.2 billion by 2028, requires much attention to detail. The surge in demand from corporate, government, and institutional sectors, driven by the need for enhanced productivity and efficient working environments, gives AV sales pros a lot of opportunity. In […]
Read More