Opportunities and Challenges in Teams Migrations with Brian Gregory
Communication and collaboration tools have never been more valuable for organizations. The need for them to be adaptable and flexible is also critical.
Does it make sense to migrate to a unified platform that integrates all communication and collaboration in one? And what challenges do companies face?
Sharing his expertise on the subject is Brian Gregory, Channel Marketing at Ribbon Communications.
"There are so many options on the market, but there's a considerable amount of growth for Teams. One, it's part of the Microsoft suite bundle, so the base version is free. Another reason is they've been in the space for over a decade," Gregory said.
Gregory noted that moving from one platform to another was once an arduous task of business case justification, executive sponsorship and testing. COVID-19 changed that.
"Companies needed something quickly, and Teams gets the work done. A new question is, 'Should we integrate voice, too?'," he added.
Unified communications platforms live entirely in the cloud. Voice was often still an on-premises solution. Now, it's thrown into the cloud, too, which can have IT teams concerned about security.
Ribbon provides session border controllers (SBCs) to mitigate risk.
"An SBC is a firewall for voice. It's purpose-built for VoIP. It's a buffer between the provider network and yours. It's to protect against any infiltration to the network," Gregory explained.
Companies migrating to the cloud but still have legacy interfaces can use SBCs, as well. The company also offers Ribbon Connect for Microsoft Teams. Ribbon Connect enables you to connect legacy voice environments with Teams.
Technology like this can make transitions easier. It also makes sense in today's environment, and this movement is a trend that will continue. Gregory also noted that voice still has a place in business operations, but peer-to-peer communication is much different.
"We're not making calls like in the past, so the growth of this collaboration platforms will continue. What we do is help enterprises transition smartly," he said.
Latest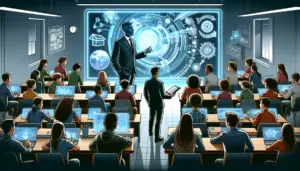 November 27, 2023
In an era where education stands at the crossroads of tradition and innovation, the potential value of thought leadership becomes the guiding star for progress. "Just Thinking" dives into this potential with host Kevin Dougherty and guest Evan Edwards, a Professional Learning Specialist at 806 Technologies who exemplifies the transformative impact of visionary guidance […]
Read More