Verizon Partner Network: One Talk
Verizon One Talk is a mobile-first business phone system designed for how people work today—call, collaborate, and connect on the go. This SMB-focused business feature-rich solution includes robust call forwarding, voicemail-to-email, and simultaneous ring. All of these features come built into Verizon's wireless core network.
Verizon's Diana Guerrero, Solutions Architect Manager and Derek Peabody, Sr. Product Manager, joined Chad Foos, Director for Digital Coast at SOVA, a key Verizon partner, and host Tyler Kern to discuss how to help implement One Talk to customers.
Peabody spoke to the versatility of One Talk, which allows a user to link multiple devices whether it's Mac or PC. Beyond the multitude of features available with One Talk, it is easy for users to manage the service. Peabody notes,"You can manage One Talk through a smartphone app, in terms of configuring it, or through a portal. Again, that flexibility to manage the service in a lot of ways in a lot of different end-point types has helped our customers."
What has Foos excited? The new T67LTE Wireless Phone from One Talk, the nation's first 4G/LTE cellular, self-contained desk phone. "In my world, I deploy desk phones, I deploy phone systems for businesses…and I spend a lot of time dealing with firewalls, making sure cabling is connected throughout the office, maybe improving the Wi-Fi signal to make sure the phone systems work. With the T67, I don't have to do any of that", says Foos. This system is ready to plugin. All it requires is a power source, and businesses will get the connection they need.
Guerrero agreed with Foos that the T67LTE would be a game-changer for many businesses. She also touched upon how businesses truly had to reinvent themselves during the pandemic and that One Talk was a solution that helped companies continue their business as usual – even transforming them. She emphasized that Verizon has a great support system in place through Verizon's partner network to help implement efficient business solutions like One Talk.
Learn more about Verizon's One Talk.
Latest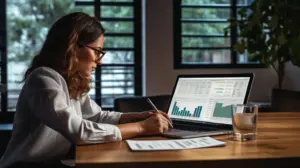 October 4, 2023
The intersection between security and financial acumen often gets overshadowed in a constantly changing economic landscape. While security is essential for safeguarding assets and ensuring continuity, its perceived monetary value is mired in misconceptions affecting company profitability. For many, security is viewed primarily as an expense rather than a potential cost-saver. However, understanding […]
Read More