Analog Way Picturall Pro Media Server Drives Award-winning Entrance Experience at New St. Louis Aquarium
America's newest aquarium is the centerpiece of a $187 million family entertainment attraction in downtown St. Louis. The Aquarium and other new attractions are housed in the National Historic Landmark train shed at St. Louis Union Station Hotel, owned by LHM and its visionaries, Bob and Steve O'Loughlin. The station originally opened in 1894 as the biggest and busiest train terminal in the nation.
The Entrance Experience recently won a THEA Award for Outstanding Achievement from the Themed Entertainment Association (TEA).  It was cited for crossing the threshold into entertainment design in new and unexpected ways.  The Entrance Experience melds fantasy and reality by carefully blending the media art and technology of DE-ŹYN Studios. LED display technology, visual media, an original music score and a masterfully executed virtual train ride attraction, turn-keyed by DE-ŹYN, transports guests into the immersive world of the aquarium.
DE-ŹYN Studios, with offices in Orlando, New York, San Francisco and Vancouver, oversaw the vision and execution of the Entrance Experience working directly with LHM on the creative media work and aquarium designer PGAV Destinations on the careful, undetectable integration of technology into their exquisite design.
The Entrance Experience is displayed on DE-ŹYN's custom seamless 2.7 mm LED display building blocks, which rise from a clock face-style fish tank window to cover the hall's barrel vault ceiling with a direction change from side to side to forward/back in DE-ŹYN's redesign. "We wanted to create a sort of 'Fantasia' ballet in the Grand Lobby, a series of three- to five-minute vignettes combining an original music score, sea life, water and natural elements in a very stylized way to immerse visitors in a world of enchantment from the moment they arrive," says John Miceli, Chief Creative Officer and Founder of DE-ŹYN Studios.
Latest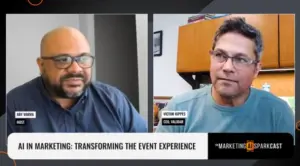 November 28, 2023
AI has been gradually changing the landscape of event technology at a very rapid pace. In an industry where staying ahead of technological trends is crucial, AI's impact on marketing and event management has become increasingly significant. As witnessed in the rise of account-based marketing and enhanced personalization, AI is effectively reshaping how events […]
Read More