Assessing The Future of Pro AV at InfoComm 2019
While so much of trade shows is about what is brand new in the present day, it is equally important to gauge where an industry is heading in the near future.
At InfoComm 2019, held in Orlando, Florida last week, MarketScale caught up with several industry insiders to get their opinions on the biggest Pro AV trends and forecasts.
Zuzor CEO & Founder Tammuz Dubnov took the time to respond to the follow questions MarketScale was interested in hearing about.
In today's immersive-experience world, what is more important: Audio or visual?
What new market is most promising for the Pro AV industry in the future: esports, traditional sports, or education? Why?
Stay tuned for more insider opinion on the present and future of Pro AV! For more InfoComm 2019 content, head to our industry page here!
Latest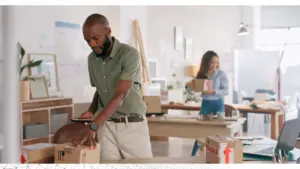 November 29, 2023
While the logistics industry often gravitates toward cutting-edge technology, Wesley Boyce, an Assistant Professor of Practice in Supply Chain Management and Analytics at the University of Nebraska-Lincoln, brings to light the enduring significance of radio communication. In a world enthralled by digital innovation, he argues that the simplicity of radios could be their greatest […]
Read More