Breaking Down Barriers for Women in Tech
Welcome to another episode of Pro AV Today with Ben Thomas. In this episode, we were thrilled to have Nancy Wang, the founder of Advancing Women in Tech (AWIT), join us for an engaging conversation on empowering women in the technology industry.
Nancy shared her wealth of experience and knowledge on three main topics:
Opportunities and Challenges for Women in Tech – Nancy shed light on the numerous opportunities available for women in the tech industry, highlighting the demand for diverse talent in fields such as software development, data science, and cybersecurity. She emphasized the importance of creating an inclusive environment to attract and retain female talent, while discussing the challenges women often face, such as unconscious bias, wage gap, and lack of representation in leadership positions.
Upskilling and Training – We explored the importance of upskilling and continuous training for women in tech, as it helps them stay competitive and relevant in the ever-evolving world of technology. Nancy shared various resources and initiatives led by AWIT that provide mentorship, networking opportunities, and skill-building workshops. She also mentioned the significance of lifelong learning and encouraged women to invest in their professional development.
Ways that Our Community at Large Can Help Support Women in Tech Careers – Lastly, we discussed how the community can play a crucial role in promoting gender equality and fostering a supportive ecosystem for women in tech. Nancy suggested practical ways for individuals and organizations to help, such as:
Encouraging young girls to pursue STEM education
Addressing and challenging stereotypes
Establishing mentorship programs
Creating gender-neutral hiring practices
Providing equal opportunities for growth and development
—
Watch the full episode of Pro AV Today above to discover more insights from Nancy Wang and learn how you can contribute to advancing women in technology.
Latest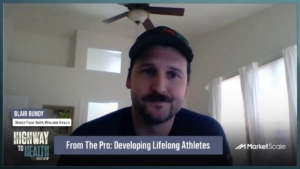 September 20, 2023
Blair Bundy, the Director of Player Health for the Milwaukee Brewers, recently shared his insights on the importance of nurturing lifelong athletes from a young age. He emphasized that the ultimate goal for children participating in sports is not just about winning games but about fostering physical and mental resilience. Such individuals lessen the strain […]
Read More