Breaking Down the Evolution of Pro Audio Tools and Cabling
In this episode of Pro AV Today, Ben Thomas sat down with Mark Corbin of Vanco International, taking a deep dive into the evolution of the Pro Audio industry. Tracing the journey from legacy systems and PA builds to the advent of cutting-edge technologies like spatial audio and modern Digital Audio Workstations (DAWs), we explored the driving forces behind the industry's transformation.
Corbin started by giving us a historical perspective on the Pro Audio industry, where analog systems dominated the landscape. Legacy hardware played a crucial role, providing robust and reliable solutions for audio recording and broadcasting. However, these systems also came with challenges, especially when interfacing with newer, digital technologies.
As the conversation transitioned into the digital era, Corbin highlighted the shift from purely analog systems to the coexistence of analog and digital audio systems. This blend of old and new, while complex, opened up a world of possibilities. The rise of digital solutions like DAWs has dramatically altered the way we create, edit, and distribute audio, offering precision and flexibility previously unimaginable.
Importantly, despite the digital revolution, the value of analog audio has not diminished. Analog's critical role in connecting sound waves with digital technology remains, fostering a unique symbiosis that results in richer and more dynamic audio solutions.
Lastly, Corbin highlighted the influence of consumer innovation, such as the rise of home recording setups and a burgeoning community of audio enthusiasts. These grassroots developments are reshaping the industry, proving that professional audio isn't exclusive to large events or established enterprises. We also touched upon the importance of "bridge" technologies like HDMI transmission, Bluetooth, and WiFi. Their impact helped bridge the gap between consumer and professional audio and leading to seamless integration and improved user experience.
Pro Audio has come a long way, from its roots in analog legacy systems to the present-day fusion of digital and analog, and the advent of spatial audio and modern DAWs. With the continuing influence of both enterprise-level transformations and consumer-driven innovations, the future of Pro Audio promises to be as exciting as its rich past.
Latest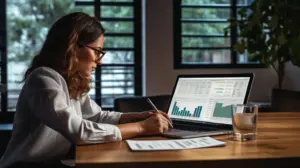 October 4, 2023
The intersection between security and financial acumen often gets overshadowed in a constantly changing economic landscape. While security is essential for safeguarding assets and ensuring continuity, its perceived monetary value is mired in misconceptions affecting company profitability. For many, security is viewed primarily as an expense rather than a potential cost-saver. However, understanding […]
Read More