Can Pro AV Industry Sales Maintain Record Numbers as U.S. Economy Slows Down?
Not every industry has been blessed with a recovery in 2022. For the Pro AV industry, though, it seems it's won good favor with the larger trends shaping the market and B2B sales this year. According to a recent Pro AV Index report from AVIXA, Pro AV industry sales from October 2022 were averaging out around 65.1 on the organization's sales index; this is up .7 points from September and the same YoY. A little less than half of surveyed businesses showed sales remained unchanged from the month before, but around 40% claimed they've seen an increase of 5% or more in sales in the span of a month.
November numbers brought that optimistic index number down to 57.0, a sharp decline in line with economy-wide slowdowns and layoffs. But if overall trends hold and the year closes out with sales averages around October's numbers, then Pro AV industry sales, and the AVIXA sales index, will land at their highest average year of all time.
Unfortunately, other metrics from the Pro AV Business Index show the Pro AV industry slightly struggling, even with sales growth. AVIXA's employment index shows both MoM and YoY, employment numbers are slightly down, with AV leaders calling out supply backlogs as one of the main inhibitors to hiring capacity and general financial stability. However, AVIXA calls this employment index to dip a "modest" decline, comparing the 61.2 October number to similar pre-pandemic levels.
Peter Hansen, economic analyst at AVIXA, gives his brief analysis of the factors at play that are shaping up Pro AV industry sales to hit a record high.
Peter's Thoughts
"Tech industry layoffs and record growth in the professional audio visual industry are two sides of the same coin. Pandemic distancing was a financial windfall for most online of solution areas, but an immersive experience with family, friends, and community has enduring value. That's why 2022 has been the year of the return.
High-quality, in-person AV is back while tech companies do a little bit of right-sizing. AVIXA's Pro AV Business Index shows record growth in both sales and employment. It's been a great year so far, and it's not over yet."
Latest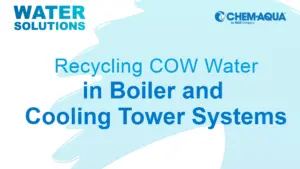 December 7, 2023
For the latest episode of ChemAqua's Water Solutions podcast, the focus was on an innovative approach to water conservation in the dairy industry. The show examined the potential of reusing Condensate of Whey (COW) water, a byproduct of dairy processing, and highlighted some of its economic and environmental benefits. Hosted by Dani Waddell, the informative […]
Read More