Digital Signage Insider Podcast Series at DSE 2019
With more than 200 exhibitors in attendance, there is a vast array of innovation, expertise and opinion available at this year's Digital Signage Expo. On March 27 and 28, Tyler Kern will gauge the state of the Pro AV world by speaking with more than a dozen industry insiders on the MarketScale podcast.
Get prepared for the latest updates straight from the DSE exhibit hall at the Las Vegas Convention Center.
Here is who you can expect to hear from on day one:
Bart DeCanne, Founder and CEO, Sophatar Inc.
Sophatar is unveiling its second-generation Proximity Digital Signage at this year's show. This will enable users to interact with installations from their smartphones with no WiFi required. DeCanne will elaborate on how this was made possible and how digital signage providers are continuing to integrate interactivity in their products. He will also explain how the industry is educating the public on these new features.
Staisey Divorski, VP of Marketing, Enplug
With the influx of digital signage into so many different markets, it is no longer enough to simply install a board if a company wants to stand out. Customization is the next step in this increasingly crowded space. Staisey Divorski will speak on how social media is being utilized by Enplug and other digital signage providers to achieve a more personal experience.
Alison Maxson, Senior Marketing and Communications Manager, Absen
Pro AV expert Alison Maxson travels the world to attend shows like DSE. She will provide her thoughts on what has caught her eye on the show floor and how it compares to other industry events like ISE in Amsterdam, where she last joined the podcast.
Jay Leedy, Subject Matter Expert, Diversified
Diviersified has worked on everything from sports venues to medical facilities. Jay Leedy will touch on what the New Jersey-based industry giant has accomplished recently and what it hopes to take away from DSE 2019. Kern and Leedy will also touch on the unique challenges of different installations and how to create the perfect display for specific spaces.
Rich Ventura, VP of Strategic Management, NEC Display & Chairman Emeritus, Digital Signage Federation
To gain a more holistic view of the digital signage industry, MarketScale will chat with Rich Ventura. The Digital Signage Federation is the official sponsor of DSE and Ventura will give his opinions on some a variety of digital signage use cases. Specifically, Kern will ask how digital signage made gains in the office environment and how products in this space can improve safety. With so much innovation each year, Ventura will explain which areas the industry needs to further educate the public about.
 Penn Arthur, CEO, Inhance Digital Corp.
With digital signage becoming more ubiquitous, it takes more to stand out to customers. Captivating users with content, interactive experiences and insight is what Inhance provides through digital signage. CEO Penn Arthur will tell MarketScale about consumer expectations today and the data and analytics that can be gathered by creating digital interactive experiences.
Laura Davis-Taylor, Co-Founder, HighStreet
Brick-and-mortar retail locations have been perhaps the biggest beneficiaries of the advancement of digital signage. Davis-Taylor will explain what digital signage can do for a business from the retail perspective.
Kristin Roubie, Channel Sales Manager, Interactive Solutions, Elo
Interactivity is one of the most natural ways to engage people. Elo has installed more than 25 million touchscreens around the planet and this technology is only getting further refined. Roubie will explain the latest and greatest examples of this in practice.
Doug Pittman, CEO, BoardActive
As internet speeds improve and 5G opens up new possibilities, an increase in connected devices will follow. BoardActive was founded in 2016 to bring brand messages direct to consumers' smart devices. Pittman will explain how BoardActive's technology is helping connect people with the brands they care about.
Calvin Chen, Project Manager, Premio
With digital signage becoming more ubiquitous, engineers are in high demand. Chen has been at Premio for more than a decade and he will provide his views on the evolution of the industry over time and where it stands now.
It is obvious to anyone that has followed the Pro AV industry over the years that digital signage has advanced far beyond a place to host an image. Although it is just one subcategory of the AV world as a whole, there is an immeasurable amount of development to learn about regarding digital signage.
For the latest news, videos, and podcasts in the Pro AV Industry, be sure to subscribe to our industry publication. A new episode of the Pro AV Show drops every Thursday.
Follow us on social media for the latest updates in B2B!
Twitter – @ProAVMKSL
Facebook – facebook.com/marketscale
LinkedIn – linkedin.com/company/marketscale
Latest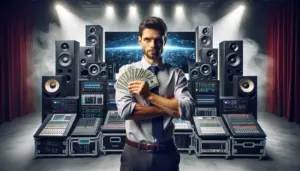 December 8, 2023
Mastering AV sales strategies in a global professional audio-visual (Pro AV) market, poised to reach $79.2 billion by 2028, requires much attention to detail. The surge in demand from corporate, government, and institutional sectors, driven by the need for enhanced productivity and efficient working environments, gives AV sales pros a lot of opportunity. In […]
Read More