NanoSessions: Fire Retardant LED Research Is Part of a Larger Safety Spectrum
When an outdoor LED board caught fire in New York's Time Square earlier this summer, experts turned new attention to fire safety and flame resistance of LED screens.
On this episode of NanoSessions, a NanoLumens podcast, host Daniel Litwin welcomed Adam Dixon, operations director of electrical engineering for NanoLumens, to give his perspective on designing fire retardant LED displays.
That fire "raised some eyebrows" among experts like Dixon because health and safety in public spaces where LEDs are often displayed are of utmost importance.
"For any environment where the LED display is considered the building material, such as equipment in a transportation space where large crowds of people in small spaces, health and safety is a concern," Dixon said.
NanoLumens has been well ahead of the curve in flame retardant LEDs. For about three years now, Dixon has been helping design and test fire retardant LED displays in collaboration with fire research companies and institutions.
"Fire dynamics are incredibly complex," Dixon said. "We explored some uncommon or never previously used material combinations for the LED package itself as well as the air board construction."
By looking at published research data about how homogenous materials hold up against fire and conversely how different combinations of materials react to fire, heat and smoke density, NanoLumens developed a well-researched and tested solution that could become a standard.
Dixon explained, "We felt the best approach was to minimize combustible mass, so if you have less material to burn theoretically you're going to generate less radiant heat."
For the latest news, videos, and podcasts in the Pro AV Industry, be sure to subscribe to our industry publication. A new episode of the Pro AV Show drops every Thursday.
Follow us on social media for the latest updates in B2B!
Twitter – @ProAVMKSL
Facebook – facebook.com/marketscale
LinkedIn – linkedin.com/company/marketscale
Latest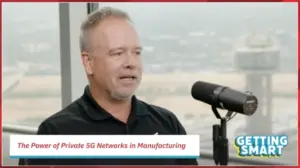 September 25, 2023
The Convergence of 5G and Automation in Manufacturing: A New Industrial Revolution The manufacturing industry stands at an inflection point. Advances in 5G technology and automation are coming together to transform the way products are made, and the role that humans and machines play in this process. Per Treven, Director of Business Development at Ericsson, […]
Read More