Houses of Worship Take Center Stage at CFX 2021
This week on Pro AV Today, powered by MarketScale, we take a look at the House of Worship market at the Church Facilities Expo in Dallas, to touch base on how this live events market adjusted its AV integrations to keep spirits high and audiences engaged.
Most modern churches have a delicate balance to walk when designing or retrofitting their sanctuaries. It's the classic case of aesthetics vs. acoustics, and making sure to compromise on neither. We asked Dudley McLaughlin from Renkus-Heinz which technologies houses of worship should utilize to enhance the clarity and coverage of their sound while maintaining architectural artistry.
While at CFX, we also had a chance to speak with Chyron, leading broadcast graphics company. It's currently helping churches maximize their infrastructure to communicate messaging, announcements and alerts around their entire campuses with new messaging and visual techniques. Chyron's Carol Bettencourt expanded on these insights in the video above.
At the show, it was great to see what houses of worship were doing on campus, but we also wanted to know: how are churches using their physical and digital touch-points to evangelize activities happening in their broader community? LiveU's George Klippel said it's never been easier for these groups to broadcast the efforts happening outside the building's walls.
Stay Tuned for More AV insights only on Pro AV Today
Latest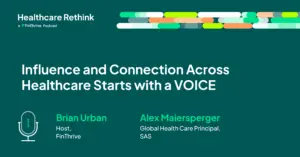 September 29, 2023
In the latest episode of the Healthcare Rethink podcast, presented by FinThrive, host Brian Urban sits down with Alex Maiersperger, the Global Principal Healthcare at SAS. Their conversation charts the role voice plays in influencing and connecting the healthcare industry. Maiersperger, who co-founded the Advancement League, shares his journey from being a healthcare optimist to […]
Read More