How Today's Pro AV Products are Recruiting The Industry's Next Wave of Workers
With 1,000 exhibitors and 44,000 attendees, the past year of development in the Pro AV industry was on display at InfoComm last week.
The visual displays were noticeable as always, but there were conversations had on more than just the latest technologies. Industry professionals are also weighing the future of Pro AV and the people who will drive workforce forward.
"To get younger people interested in our industry, I think we really need to show them more of the behind-the-scenes production, how are products are used to create all the entertainment, the concerts, the digital signage that you see at these beautiful airports," Pro AV industry Strategic Marketing & Business Developer Petro Shimonishi said. "That's really the exciting stuff. You've got to give them exposure to it because this is all about creating a much better world for everybody."
As the industry's largest annual showcase in North America, there was plenty of opportunity for potential solutions to be reached in regard to recruiting younger workers who will propel the next generation of AV technology.
More immediately, products like the Peerless AV IK10-rated glass display showed some of the newest innovations in the industry. In the company's booth, the glass was repeatedly withstanding 20 joules of impact energy, the equivalent of dropping a 10-lb weight from approximately 23.5 inches.
It was evident at InfoComm 2019 that Pro AV applications are more far-reaching than ever before, even as the industry grapples with what it will look like itself in coming years.
Latest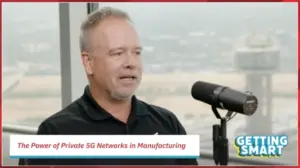 September 25, 2023
The Convergence of 5G and Automation in Manufacturing: A New Industrial Revolution The manufacturing industry stands at an inflection point. Advances in 5G technology and automation are coming together to transform the way products are made, and the role that humans and machines play in this process. Per Treven, Director of Business Development at Ericsson, […]
Read More