InfoComm 2021: How The AV Industry Is Surviving The Year of COVID
Key Points:
The AV industry has faced significant challenges over the past year.
The AV industry has found comradery in dealing with the challenges.
One of the challenges is the labor shortage that's impacted the industry.
Commentary:
InfoComm 2021 is in full swing, finally giving the AV industry the reunion it deserves. Behind every InfoComm event is the AVIXA leadership team, and with a year of new market trends, a pause on in-person events, and new opportunities in legacy and unexpected industries, we needed to hear from AVIXA's leaders to synthesize where all these different trends are actually leaving the industry.
First up, our team at InfoComm spoke with Dave Labuskes, CEO of AVIXA. It's been so refreshing for the industry to have its long-awaited in-person reunion; there's genuinely an unmatched energy in the air. Here's Dave's take on why there's such a natural sense of camaraderie in AV and how the industry's work itself shapes its professionals' collaborative, passionate culture.
Our InfoComm also sat down with Sean Wargo, Senior Director of Market Intelligence at AVIXA, to crunch the numbers and talk shop. We asked him to analyze the impact that the last 18 months left on the AV industry's most successful market segments. Here's what the researchers are seeing.
Abridged Thoughts:
It is an infinite amount of work for over 120 staff members at iFixit who are working on this show, typically two years in advance. That discounts the fact that we're normally contracted in a convention center as much as five years in advance. You're putting on a show that is typically half a $1,750,000 square feet of space. Tens of thousands of people. Tens of thousands of hotel room nights. Tens of thousands of meals in restaurants. The layers of work that go on just logistically and delivering a show in regular times are unfathomable. – Dave Labuskes
Before the pandemic, we had a labor shortage. We had almost what they call zero-zero unemployment, right, or a perfect employment market where there just wasn't a lot of labor. And I think, you know, there was a period perhaps where there was movement around in our industry, but we would expect and certainly because of the specialized nature of skills that are of it, all the related disciplines to it, it's natural that there's going to be shortages, that you would therefore see wages coming up, having to pay more premium. But you're also seeing companies get creative about attracting new talent, skilling them up, training them into new areas, reskilling all those kinds of things are also happening. – Sean Wargo
More Stories From InfoComm 2021:
Latest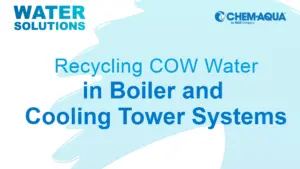 December 7, 2023
For the latest episode of ChemAqua's Water Solutions podcast, the focus was on an innovative approach to water conservation in the dairy industry. The show examined the potential of reusing Condensate of Whey (COW) water, a byproduct of dairy processing, and highlighted some of its economic and environmental benefits. Hosted by Dani Waddell, the informative […]
Read More