InfoComm 2019: How Storytelling and Video Games are Shaping Future Dark Rides
We live in the age of entertainment at our fingertips. Interactive games, exciting videos, and groundbreaking stories are only a click away. So how are theme parks staying competitive as an entertaining pastime and leisure activity, and how is AV playing into this immersive experience economy?
Giving their perspectives are Erik Baeumlisberger, corporate manager of guest experience technology at SeaWorld Parks and Entertainment, and Mike Wallace, creative director at Falcon's Creative Group. Both were part of a panel session, presented by Blooloop, at InfoComm 2019 titled "Trends in Theme Park Attraction Experiences."
A big takeaway from their presentation and from the podcast is that theme park designers are having to create rides and experience that are personalized and repeatable, and they're turning to tangential industries to draw inspiration. One of those, and the one that piqued our interest the most, was video games.
"The video game industry has outpaced the film industry for a few years now," Baeumlisberger said.
"It's realtime decision-making that affects your environment and your journey, and if we try to apply those lessons to a dark ride or to a physical environment in a them park, that's when we start to get into this frontier of untapped potential" Wallace said.
That realtime differentiation creates an intrinsic uniqueness to each person's ride and tells a new story. It has to, Wallace said. "There's no way you're going to have the same eight people make the same decision."
As the world advances technologically at break-neck speed, theme parks are keeping pace by creating immersive, personalized experiences influenced and inspired by tech. So what sets them apart from Virtual Reality or Augmented Reality that people can experience at home? In an ironic twist, theme parks are differentiating themselves from modern digital entertainment by throwing it back to the original form of entertainment, too: theatre.
Like video games, improvisational actors add an element of surprise and individuality that keep guests coming back for new experiences. In addition to live actors, theme park innovators are customizing the guest experience by collecting data to help curate an ongoing journey that continues to please the likes of each individual person.
Experience creators like Baeumlisberger and Wallace are pushing the limits of creativity by crafting narratives that draw the guest in and make them part of a story. These theme park experiences are unique and catered to each guest, and have a built in sense of repeatability because of that personalization.
Listen to these two thought leaders explain why, whether it's a roller-coaster or a haunted house, the thrill for future theme parks lies in users holding the ability to define the ride more than the designer.
For the latest news, videos, and podcasts in the Pro AV Industry, be sure to subscribe to our industry publication. A new episode of the Pro AV Show drops every Thursday.
Follow us on social media for the latest updates in B2B!
Twitter – @ProAVMKSL
Facebook – facebook.com/marketscale
LinkedIn – linkedin.com/company/marketscale
Latest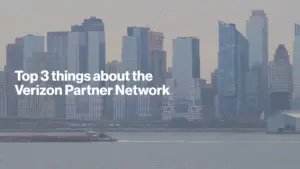 December 1, 2023
For a continuation episode of The Verizon Partner Network's special segment with team leaders, Mark Tina, VP of Indirect Channel Distribution and Channel Chief at Verizon Business Group, joined again to outline the three top aspects that define the Verizon Partner Network and its approach to collaborative success. The video centers on Tina's explanation of […]
Read More