Is It Live or Is It Virtual? The Future of Live Events
During the pandemic, the way live concerts and events were delivered underwent a complete change in thinking. AV technology provided safe, though not altogether satisfying, alternatives to mosh pits and packed concert arenas. We saw glimpses of artists' living rooms and garages as they streamed performances, we experienced virtual reality shows that were a bit better, and we caught wind of some holographic plans courtesy of ABBA's  Björn Ulvaeus. But what's the long-term outlook? One day soon, it will be safe to attend concerts and other live events again. But until that day, and perhaps after it, audiovisual technology is making sure the show goes on.
"Simply streaming shows over the internet isn't a better way – I can say that from experience," remarked Michael Björn, Head of Research Agenda and Quality at Consumer & IndustryLab at Ericsson. "Back in December 2020, I helped set up an online rock show with two bands playing in Italy and one band playing in Tokyo, all live-streamed, and although you get the music performance delivered to you, you totally miss out on the social aspect. It becomes quite boring, to be honest."
Björn wasn't too impressed with VR performances, either, noting that while the social aspect of it is an improvement over streaming shows, the band looks too cartoonish to take seriously.
Amy LaMeyer, Managing Partner, WXR Fund, which invests in early-stage, women-led AR/VR/AI companies, has an entirely different view on virtual reality live events.
"For a new technology, it was surprisingly good!" LaMeyer said after virtually attending a Live Nation and NextVR streamed concert. "I'll admit it, I got up and danced. I may have even clapped and whistled. This is the future, and I'm eagerly awaiting more."
The benefits of live VR concerts are numerous. Since cameras are often positioned on stage, viewers are not so much watching a concert as they are experiencing it. Virtual reality concerts often have the participants facing the crowd from the stage. This gives a feel for what it's like to be a singer or guitarist in the band. Essentially, you're getting the best seat in the house. But wait! There's more! Using the camera's 180-degree view, virtual concert-goers can actually "find" people they know who are also attending.
IS THE FUTURE VR… OR SOMETHING ELSE?
Greenlight Insights analyst Alexis Macklin said that younger consumers are more likely to be interested in using VR for live events. "So we'll see this market grow as these younger generations grow as well," she said. Analysts at Citi Research predict that by 2025 the global virtual reality/augmented reality market could reach $569 billion.
But virtual reality – the next generation – is already upon us, and it's using an old technique. As AVIXA reported in June, multiple companies are launching 3-D technologies that create life-like holograms, based on systems already being used in live music and event scenarios. It will be the next best thing to being there.
"Nothing beats the adrenaline rush of seeing your favorite performer live in concert," remarked Gil Kaufman, an entertainment writer for Billboard magazine, discussing how promoters have been using 'holograms' for over a decade to present 'live' performances from musicians that are thousands of miles away. And while the results have been impressive, the technology is rapidly developing now as the world becomes more and more dependent on virtual technologies.
On their Voyage tour, ABBA will perform as avatars (or ABBAtars) on stage with a real band starting in May. But the "holographic"/VR tech being used doesn't really use holograms (yet), but rather a new twist on a decades-old mirror and lighting application.
According to Chris Young at Interesting Engineering, a hologram is a three-dimensional projection of diffracted light that retains the depth of the original physical source it displays. What's been used in the past, and is rapidly being developed anew, is Pepper's Ghost, an old parlor trick that's been around for centuries and was originally used to convince unsuspecting marks that a medium had made contact with their relatives from beyond.
The modern usage of Pepper's Ghost was invented jointly by engineer Henry Dircks and scientist John Henry Pepper and was first performed on stage in the 1960s. Using this technique, a pane of glass is angled towards a booth underneath the stage. Using the glass, the performer's images are projected on stage with a translucent quality.
"This technique is actually a 2D projection that gives the illusion of a 3D hologram, instead of actually being 3D," said Young.
But the future is definitely some sort of real holographic application as companies like PORTL Inc. roll out technology that deploys live or recorded 3D simulation that features appearances far more realistic than current virtual reality. The product promises it can "beam" a CEO, politician, entertainer, families – whomever – into 100s of venues globally and simultaneously.
Will live events ever be the same post-pandemic? Likely not, and that's a good thing. We'll all be in an audience of cheering music fans again soon enough, and for many people, there is no substitute for that. But these developing technologies might also provide ticket buyers a choice of attending a live event physically or virtually and could add substantially entertaining elements to these live shows.
Who knows? Our children and grandchildren might experience "live" tours by the Rolling Stones for decades to come. Keith Richards might even still be around them!
—
Author: Joey Davis
Joey Davis is a seasoned content and marketing professional with over 20 years of progressive experience in fast-paced digital media environments. The 2019 Technology Associates of Georgia Marketing Innovator of the Year recipient, he specializes in web content development, marketing strategy, writing, and graphic design.
Latest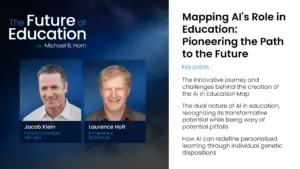 October 2, 2023
Mapping AI's role in education should be a critical step in bringing together innovative technology-based solutions with the expertise of human educators. With rapid advancements in artificial intelligence and an increased reliance on technology-driven educational solutions, the education landscape is on the brink of a significant transformation. AI promises highly personalized learning experiences, efficient administrative […]
Read More