Massive Digital + Static Signage Unveiled at Broadway Plaza in Times Square
New York—­SNA Displays built what's being dubbed the Broadway Plaza Digital, a new LED spectacular in a prominent location at the southeast end of the Times Square bowtie. The new digital, from SNA Displays' EMPIRE™ line of exterior display products, is installed just outside H&M's Times Square flagship location at 151 West 42nd Street.
Built in 1999, 151 West 42nd Street (formerly 4 Times Square) is the nation's first "green skyscraper." It is owned and operated by The Durst Organization, one of the oldest family-run commercial and residential real estate companies in New York City.
The Broadway Plaza Digital measures 19'8″ high by 85′ wide and employs a 10 mm pixel pitch. The display includes an oblique return, essentially a gap on the left end of the display that angles away from the main part of the screen, designed to accommodate future signage. This feature also creates added exposure facing uptown to onlookers in Times Square above 43rd Street.
Branded Cities is managing advertising and digital marketing campaigns on the new spectacular for The Durst Organization.
Conceptual design, EDC permitting coordination, and documentation of the display were led for The Durst Organization by Sensory Interactive, who also worked with the client to develop the overall vision for the project. Sensory Interactive then represented the owner throughout the procurement and construction process, ensuring that the project addressed future tenant needs, came in under budget, and was completed before the holiday season despite challenges related to COVID and the difficult logistics of working in the Times Square environment.
As part of the multi-faceted construction project, SNA Displays and Sensory Interactive project management teams coordinated the retrofitting of static signage. While most of the existing structure was retained for the new digital signage, some of the older steel was removed. SNA Displays also managed the installation of new steel and catwalks to support both the static and digital signage as well as new lighting fixtures.
"This project stands out because of the massive signage elements in both static and digital combined into one structure," said John Pisciotta, senior project manager for SNA Displays. "As one of the country's premier manufacturers of LED spectaculars, we don't typically deal with static signage except to replace them entirely with digital ones. In the end, though, I think the new static sign marries well with the LED display, allowing H&M and future tenants the option to blend classic and modern media."
SNA Displays used a continuous strip of LED lighting to illuminate the static signage, according to Pisciotta.
Finally, to accommodate a potential restaurant tenant, the design and engineering team considered the impact of a kitchen exhaust duct running through the catwalk system along Broadway, the only available exit for the duct. This meant that no structural or electrical components could be installed in the potential pathway.
Landmark Signs & Electrical Maintenance managed removal and replacement of structural steel in addition to installing the digital display.
Currently, both the static and digital displays feature H&M advertising.
For more information, visit snadisplays.com/projects/broadway-plaza-digital.
ABOUT SNA DISPLAYS
SNA Displays brings creative visions to life by building high-end digital displays as vivid and dynamic as the imagination. SNA Displays employs a team of SNAPros™—engineers, skilled project managers, systems experts, installation managers, and support staff—whose mission is total project satisfaction.
SNA Displays is headquartered in Times Square and has worked with clients to design and build some of the largest and most recognizable digital spectaculars in the world. Discover how Dreams Live Digitally® at snadisplays.com.
ABOUT SENSORY INTERACTIVE
Sensory Interactive creates real estate value by using technology to generate revenue and deliver engaging visitor experiences. The company works with world-class institutions and organizations to produce promotional platforms, digital out-of-home platforms, dynamic environments, and creative content. From its headquarters in Washington, DC, and offices in Atlanta, Austin, Boston, Dallas, and New York, Sensory Interactive provides services covering an installation's full life cycle, including project delivery, revenue, and management services. For more information, visit www.sensoryinteractive.net or @SenseInteract on Twitter.
 ABOUT BRANDED CITIES
Branded Cities is a digital and spectacular out-of-home media company with iconic signage in destinations throughout the United States and Canada. Branded Cities promotes national and local brands through its network of spectacular, static and digital sign displays. For more information, visit brandedcities.com/us.
ABOUT THE DURST ORGANIZATION
The Durst Organization, founded in 1915 by Joseph Durst, is the owner, manager and builder of 13 million square feet of premiere Manhattan office towers and over three million square feet of residential rental properties with 2,500 rental residences built, and over 3,500 rental residences in the pipeline. The Durst Organization is recognized as a world leader in the development of high-performance and environmentally advanced commercial and residential buildings where people live, work and thrive. For more information, visit durst.org.
Latest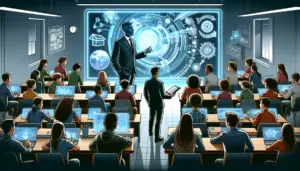 November 27, 2023
In an era where education stands at the crossroads of tradition and innovation, the potential value of thought leadership becomes the guiding star for progress. "Just Thinking" dives into this potential with host Kevin Dougherty and guest Evan Edwards, a Professional Learning Specialist at 806 Technologies who exemplifies the transformative impact of visionary guidance […]
Read More