NAB Pulls the Plug on This Year's Show, Attendees Have Mixed Reactions
The Pro AV world was taken by surprise with the cancellation of NAB this October with concerns around COVID's persistent waves and the financial viability of still holding the show.
The organization did make sure to say they'd be welcoming the industry back, in person, in April 2022.
But a question looms over the broadcast world: is support of in person shows dwindling, or is this still just a short-term response to the pandemic? & what role will the major trade organizations take moving forward to foster networking and collaboration within their worlds, even without an NAB-level show?
We pitched this to Carol Bettencourt, VP, Marketing at Chyron, a broadcast graphics and real-time data visualization company for live television, news, weather, and sports productions; here's her perspective on the NAB's cancellation.
Latest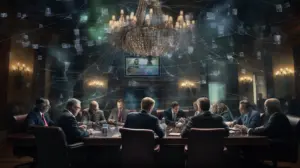 October 3, 2023
In August 2023, the National Institute of Standards of Technology (NIST) put out a request for comments on the Preliminary Update from the Internet of Things Federal Working Group (IoTFWG), which aims to provide the nation direction on how to improve IoT adoption and expand its use cases for the future of industrial, corporate, […]
Read More