The Road to GSX 2023
As the security industry rapidly evolves, GSX 2023 takes center stage, and the buzz is palpable. With cutting-edge technologies, collaboration, and cybersecurity at the forefront, the event aims to shape the future of security operations. This year, expectations and trends are soaring, reflecting the industry's thirst for innovation and smarter workflows.
Main Points of Conversation:
Unveiling the top trends reshaping the security market: Exploring AI, new computing, remote work dynamics, and their impact.
GSX 2023's significance: How this event is a catalyst for industry-wide advancements and innovative best practices.
Collaborative solutions at the heart of control room setups: The shift to video over IP and its potential to revolutionize workflows.
Addressing unique cybersecurity concerns: VuWall's versatile approach to securing video environments in diverse scenarios.
VuWall's booth highlights at GSX 2023: From integrated solutions to game-changing Pack KVM, offering simplified system architecture and enhanced user experience.
VueStream 350 IP KVM encoder: Elevating video transmission quality and user interaction through unified hardware.
Guest Bio:
Nick Mathis, the Director of Business Development at VuWall, is a visionary in the security technology realm. With a passion for creating cohesive security ecosystems, Nick's insights help organizations navigate the complex landscape of security operations with finesse.
Latest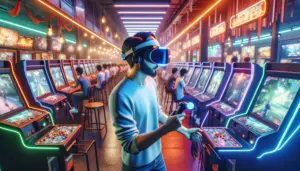 December 4, 2023
In this Pro AV Today soundbite from Dan O'Brien of HTC VIVE, the conversation centered on the significant role of Virtual Reality (VR) and Augmented Reality (AR) in attractions and enterprise applications. O'Brien highlighted the critical need for durable hardware design, tailored to withstand extensive use in location-based entertainment (LBE) operations. Unlike consumer-grade VR headsets, […]
Read More