Touchless Meetings & Cloud-based AV Ecosystems at InfoComm 2021
Hello everyone and welcome to Pro AV Today brought to you by MarketScale – I'm Ben Thomas. We've been working our way through our post-InfoComm 2021 hangover with a healthy dose of coffee and insights from the industry leaders we spoke to in Orlando. On today's show we're going to hear from Richard Sasson from Crestron and Lex Peters the University of Southern California.
Richard discusses what people are looking for in AV solutions for the office in today's environment. He also explains how supply chain issues have had an impact on the products that are being sourced and produced for the AV ecosystem.
Even before we were aware of COVID-19, Lex Peters and her team at USC set out to create a wholistic cloud-based AV ecosystem. The pandemic proved how truly valuable a tool like this can be in a variety of settings. We talked to Lex about the work that went into building this platform and the multitude of use-cases for this AV ecosystem.
Richard Sasson:
One of the really important things that came out of the pandemic was something that we have been working on for many years and have been promoting for many years – the concept of a no touch meeting.
And everyone was like: "Yeah, yeah, yeah, yeah, no touch meeting, it's a nice, kind of cool idea." Then the pandemic hit and they went: "Wait, you guys do no touch meeting. What does that mean? How come no one knows about?"
What we had been doing for many years was now something people really wanted to widely adopt. We've seen a huge, as everybody in the industry has, shift in meeting room designs and shift in video conferencing technology to more unified communications technology.
And we're now selling (of course, we have been for many years) the concept of Teams rooms and Zoom rooms and items along those lines. And that part of our market has gone through the roof, which has brought with it as part of the industry has evolved and office space is gone a whole new direction, there's a demand that a year and a half ago wasn't there a year and a half ago.
Lex Peters:
We wanted to create a solution where we could fix problems for our users faster. So the idea was to be able to have the entire system be cloud based so that we can correct majority of the problems from our office and take way less time from classes. Our priority, of course, is the student students and the faculty and making sure that their teaching time and their learning time isn't interrupted."
How many times have you been in a meeting where somebody is like, OK, wait, let me just figure out this technology really quick, or they have to have a technician come in and all that? What better way to empower them than just to have a device that they can look at and recognize and be familiar with and just use it?
Cloud sharing like airplay, for example, people are used to airplay. Yeah similar solutions of being able to just share, maybe from your phone really quick and not taking away time from what people really want to communicate in their meetings or whatever settings with the technology, but just helping or have the technology assist them.
We want to ideally have the entire University under our same solution and just really unify that. So that's our plan there. And then our other big project we're looking for is a really cool esports arena. So that's in the works right now. I can't say too much about it, but that's going to be really cool. There's such a big world there that we have yet to jump into, so we're super excited about that. And creating a cool atmosphere for the students there.
More Stories Like This:
Latest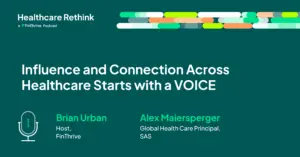 September 29, 2023
In the latest episode of the Healthcare Rethink podcast, presented by FinThrive, host Brian Urban sits down with Alex Maiersperger, the Global Principal Healthcare at SAS. Their conversation charts the role voice plays in influencing and connecting the healthcare industry. Maiersperger, who co-founded the Advancement League, shares his journey from being a healthcare optimist to […]
Read More