Examining the "A" in AV Over IP
AV over IP isn't a new concept in the Pro AV market. Its prevalence is growing with the unique demands of the modern world. While the "v" or video over IP innovations have dominated the conversation recently, the "a" or audio is just as important. For audio or visuals, it involves the transmission of those signals over an IP infrastructure. Discussing the topic today, Pro AV Today host Ben Thomas welcomed guest and expert Jeff Hawley of Allen & Heath.
Hawley has been in the AV space for decades in multiple roles, from production to the studio.
Hawley said of the emergence of AV over IP, "It's not new. There were some early swings at it, mostly proprietary. There's been a big move forward with Dante and MADI. Every audio or video product must have a way to get to that core base IP."
Hawley and Thomas also discussed the platform options of open source versus non-open source. "You shouldn't get caught up on which is winning but which opens up the most possibilities when putting a system together," Hawley counseled.
In building out a new system or retrofitting one to enable AV over IP, Hawley explained, "The key is the infrastructure. You have to figure the network stuff out first." For the house of worship market, this can be challenging due to budgets or other limitations. Hawley said, "You want to build in flexibility from the start. Churches often don't go beyond today's requirements."
To avoid this for that vertical or any other, Hawley recommended always partnering with a professional integrator. "Consultants are well-versed in the spaces. They can have the conversations to help organizations plan for the future."
More Stories Like This:
Houses of Worship Take Center Stage at CFX 2021
The Install, Episode 1: A MarketScale Pro AV Original Series
Today Everyone is a Content Creator. How Can AV Companies Tap into this Market?
Latest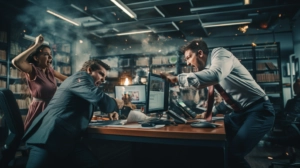 September 22, 2023
The kind of news that is delivered everyday serves as a grim reminder of the escalating violence across the U.S. Evidently, the need for proactive measures to ensure safety has never been more pressing. Such violence is not limited to any particular locale. It's actually permeating in so many different areas once considered […]
Read More