Analyzing Ecommerce with Razoyo
William Byrne is the Chief Technology Officer for Razoyo, an ecommerce consultancy and Magento Certified Developer serving the needs of small and medium-sized web stores.  Razoyo helps online merchants create, manage, maintain and update their stores. The company also helps solve both business and technology problems.
Byrne's role with Razoyo involves analyzing business requirements and preparing the scope of work during the sales/proposal phase of a project. He breaks project requirements down into smaller, manageable tasks given to Razoyo's team of developers. Meanwhile, he'll manage these developers through the project life cycle, ensuring that requirements, deadlines and budgets are followed. Byrne's work involves the development of project management workflows, handling technical escalations and performing technical website evaluations.
In college, Byrne launched his own  eBay store to make some "extra money." He sold hobby-grade RC (remote control) products for various manufacturers such as Redcat Racing. While he initially handled everything manually, as sales grew he decided to teach himself how to program in order to fully automate his operation.  Sales were eventually so high that eBay upgraded him to PowerSeller status as his early eCommerce skills served him well.
Razoyo has landed a "huge surge of B2B projects over the past year." When Razoyo started building eCommerce sites in 2013, they were exclusively B2C. Now it's more B2B. This change has been significant enough to warrant a change in platforms.
"This shift has been so significant that we started developing on a brand new platform called Oro Commerce this past year. Oro Commerce is a shopping cart platform that caters specifically to B2B needs," he says. "In the past, we would just customize Magento (the WordPress of online shopping) to handle B2B needs, but now with Oro, many common B2B features are included right out of the box."
What are some of the projects Razoyo is working on that exemplify B2B needs in the eCommerce industry?
One of the projects is for a company providing a one-stop online portal for professionals in the automotive industry. They cater to automotive dealerships, service centers, collision centers while carrying many diverse automotive products. Customers could place orders for hundreds of products at a time so their site needs to handle big orders in an efficient way. Also, with this type of order there must be approvals at various levels before an order is accepted, so the platform must send orders to the right channels  before processing  the approvals.
Another B2B project Razoyo is working on involves a client providing car wash fluids and equipment to car washes all over Texas, Oklahoma and New Mexico. A typical online store would not meet their needs, and since most of their items are non-replenishable, they must provide an excellent recurring order experience. They also want the ability to have their sales reps put together carts for their customers, essentially having the sales rep do the shopping so the car wash manager can just log in and review and place the order. Razoyo makes it possible for sales reps to visit their customers' car wash locations with ipads and enable the car wash to create orders for products they need more of as well as new products they'd like to try.
Byrne believes the eCommerce industry is still in its infancy compared to traditional brick and mortar stores. Some trends to watch include mobile shopping via mobile devices, the B2B experience catching up to B2C so business orders will be placed 24/7 from smartphones, a blending of online and in-store shopping options and, finally, AI applications applied to eCommerce to help merchants leverage available analytical data and improve online sales.
Latest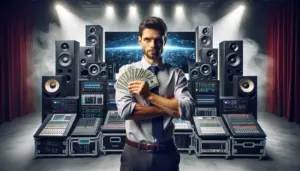 December 8, 2023
Mastering AV sales strategies in a global professional audio-visual (Pro AV) market, poised to reach $79.2 billion by 2028, requires much attention to detail. The surge in demand from corporate, government, and institutional sectors, driven by the need for enhanced productivity and efficient working environments, gives AV sales pros a lot of opportunity. In […]
Read More