Are Payment Processing Fees Negatively Impacting Small Businesses?
Payment processing fees are becoming a source of discontent for many small business owners.
In today's world, customers often have the opportunity to make store purchases through a variety of options. Because card and mobile payments are extremely common now, a lot of businesses have adopted payment processing technology to provide that option and collect charges. However, the payment processing fees that come along with preparing these payments have also become a bane in the existence of these businesses, according to a new poll.
Per Retail Dive, a survey conducted by J.D. Power concluded that there is growing dissatisfaction with payment processors and their associated fees amongst business owners. In addition to high payment processing fees, functionality issues and inflation are also playing a role in this upset. But the fees remain the driving source of the issue and they are costing businesses better profits.
Jennifer Glaspie-Lundstrom, the CEO and founder of Tandym, says carefully reviewing and revising how payment processing fees impact business profits, and looking into new regulations and improved technology, could ultimately have a positive impact on this current problem.
Glaspie-Lundstrom's Thoughts
"In our business we talk to retailers every day about payments, and there is real dissatisfaction with the status quo, particularly, when it comes to fees. Most small businesses pay at least three percent of sales for payment processing, which means that for a business that makes a 10 percent profit, a whopping 30 percent of their income goes just to processing transactions.
So, what is being done to solve the problem? There are two big categories of activity. The first is proposed legislation, specifically the Credit Card Competition Act of 2022. Our assessment is that if this does pass it will unlikely lead to significant relief for retailers. The second is technology innovation. Pay-by-bank is a significantly lower cost option that has gained traction in other countries. There are a few innovators working to make this solution more prevalent here in the U.S. Here at Tandym, we've created a new payment method that allows retailers of any size to quickly and easily offer their own branded or debit credit card, which saves merchants 80 to 90 percent on processing fees."
Article written by Alexandra Simon.
Latest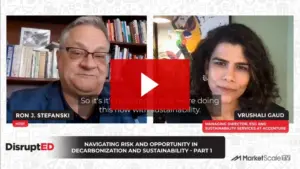 September 26, 2023
The global conversation has shifted dramatically towards decarbonization and sustainability in recent years. With the world experiencing unprecedented levels of disruption, from 5G technology to the challenges of a pandemic, the urgency to address climate change and its implications has never been more palpable. Although most business leaders see the vision of Sustainable Development […]
Read More