Crime-Related Retail Closures Soared in 2022. Is Closing Shop the Right Solution?
There are rising concerns about increasing crime rates the past couple of years in the U.S., and the retail industry is no stranger to this. In fact, the 2022 National Retail Security Survey revealed a 26.5 percent increase in organized retail crime (ORC), according to the National Retail Foundation. How are retailers reacting? Some, like Starbucks and McDonald's, are acting on their concerns by retail closures to locations in areas they deem unsafe.
When did this start happening, and how are customers responding? Starbucks announced some of their locations would be closing in July of 2022 due to safety concerns, while McDonald's made comments about location closures in September. Recently, JP Morgan Chase decided to close several ATM locations several hours earlier than usual—at 5 or 6 P.M.—in lieu of crime increases, and customers are expressing their discontent on social media. Top brands like Nike are following suit, with its recent closure of a key downtown Seattle store citing a city-wide crime wave.
Top big box retailers are pointing the finger at retail crime as well as the reason for their financial crunches. Target, for example, blamed retail crime for its lackluster Q4 earnings, and Walmart is threatening store closures or higher prices should the trend continue. Though retailers all seem aligned on the gravity of this issue, its true impact is still in question.
Walgreens is one case that raises eyebrows. The company fervently claimed "organized retail crime" was an epidemic for their stores, leading to five San Francisco Walgreens locations closing shop in another wave of crime-related retail closures. However, the company walked back on its accusations, saying they may have "cried too much last year" over a non-issue; SFPD cited the five closed stores had less than two reported shoplifting incidents per month since 2018.
With that context in mind, are crime-related retail closures the right response to this issue? What other methods can retailers take to prevent crime without closing locations and losing ground on key brick & mortar locations? Venkatesh Shankar, Director of Research and the Texas A&M Center for Retailing Studies, and Lisa Miller, President of Lisa W. Miller & Associates, give their thoughts on the retail crime trend and provide perspectives on the way retailers are already and should be responding.
Venkatesh Shankar's Thoughts:
"Organized retail crime is a significant menace to retailers. In the year 2022, it is expected that retailers lost about a hundred billion dollars due to crime and theft. What can retailers do to prevent that from happening in 2023? And what are the trends? If retailers are more proactive and engage in anti-crime and theft prevention, they would be more successful in 2023.
What are some of the things retailers can do? First and foremost, they can beef up their security and crime prevention measures inside the stores. For example, they can install better security cameras, alert systems, other tracking systems such as RFID, radio frequency identification and EAS, electronics article surveillance, by which they can track the items or inventory, even when they're removed from the store without proper purchase.
They can also engage in more locking technologies. For example, Lowe's recently tested a concept called Project Unlock by which all the tools that are bought in Lowe's will not work unless it's digitally registered and unlocked. Retailers could also work with local law enforcement agencies, and at a broader level, the government level, right? If you think about at a federal level, two initiatives. One major initiative that is happening is a bill that is being sponsored by two senators and that would be Combating Organized Retail Crime Act of 2023. They could follow up on that, have lobbying efforts directed at enacting the bill.
Retailers could train their employees so as to be more vigilant and have safety measures and precautions observed. Finally, retailers can better engage with the customers, inform the customers, and make sure the customer shopping experience is pleasant and at the same time safe. So these are some of the ways in which retailers could act to prevent and to anticipate crimes and deter criminals."
Lisa Miller's Thoughts:
"Every single day when we turn on the news, we see violence. We see gun shootings. We see people attacking each other. And at the end of the day, this rising violence is negatively impacting the economy. In our recent survey, 43% of Americans basically are saying [because of] this rising violence, they're fearful to go out in public and enjoy their regular activities. So as a business operator, what can you do to make your customers feel safe? A couple of ideas. The first is make sure at night, are your parking lot lights working? Are they all in good order? Do you actually have security cameras? Those little nods to safety will go a long way to making your customers feel safe."
Latest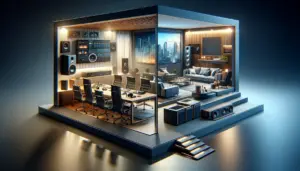 November 27, 2023
In this episode of "Pro AV Today," host Ben Thomas sits down with Audra Kinsley of Sonos Professional to unpack a topic that's causing (sound) waves in the audio industry: the fusion of commercial and residential audio systems. As we navigate through a landscape where consumer and professional audio worlds are increasingly intersecting, Sonos steps […]
Read More