Target Was the Target of Retail Thieves in 2022, And It Cost The Company Millions
Target's recent quarterly earnings were unfortunately lackluster all-around, missing quarterly expectations with a profit margin of 3.9%, lower than its 5.35% estimates. Consumers' dwindling confidence and tightening pocketbooks are likely to blame for a slow down in revenue for the retail giant; chairman and CEO of Target blamed "meaningfully" lower sales and profit margins on "guests' shopping behavior increasingly impacted by inflation, rising interest rates and economic uncertainty." Also on Target's receipts for where to place the underperformance blame was a surprising group: retail thieves. Apparently, "inventory shrinkage," which is a nice way of putting shoplifted product, was one of the main factors that contributed to a poor quarterly performance.
Retail thieves scored big year-over-year on Target shoplifting runs. Missing inventory slashed Target's gross profit margin by $400 million compared to 2021's same-quarter numbers. What put Target in the target of shoplifters to the degree that it cost the company millions? And to what degree should Target address this profit-gauging issue through enhanced security measures without negatively impacting customer perceptions or experiences?
Venkatesh's Thoughts
"Organized crime is a menace to the retail industry. It is estimated that about a hundred billion dollars are lost due to shrink, or due to theft or crime. And Target is just one of the retailers who experience this problem. Last year Walgreens had a problem. They had to close about five locations in California and a number of stores that they feared would be lost on a continual basis due to crime.
And the one of the reasons why Target is targeted this time is because Target has a lot of inventory, excess inventory, and it's trying to clear that. And so maybe the retail thieves see it as an opportunity to attack them at this point in time. However, the best ways in which Target and other retailers can combat this crime is to be well-prepared, having good security measures, collaborate among the other retailers, get law enforcements in order and be very vigilant. This is something that the retail industry has to collectively solve because it's increasing at about 25% a year."
More Thoughts from Venkatesh: "Analysis: Lessons for CEOs from the Schultz & Starbucks Union Avoidance Campaign"
Latest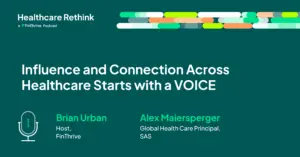 September 29, 2023
In the latest episode of the Healthcare Rethink podcast, presented by FinThrive, host Brian Urban sits down with Alex Maiersperger, the Global Principal Healthcare at SAS. Their conversation charts the role voice plays in influencing and connecting the healthcare industry. Maiersperger, who co-founded the Advancement League, shares his journey from being a healthcare optimist to […]
Read More