Did Toys R Us Have the Right Brick & Mortar Strategy?
On this MarketScale Industry Update, Voice of B2B Daniel Litwin sits down with Melissa Gonzalez, host of MarketScale's Retail Refined and founder of The Lionesque Group, to give analysis on Toys R Us' final wave of closings. After being brought under the Bain Capital umbrella and filing for Chapter 11 bankruptcy, and then reviving its store operations with a smaller and more experiential footprint, Toys R Us is shuttering its final two US store locations.
When Toys R Us brought its stores back post-bankruptcy, it opened a New Jersey location and a Texas location, scaling back their big box approach to be smaller and more focused on letting kids interact with their toys before buying. As Gonzalez explains, this strategy was working well for the retailer until the pandemic hit.
Toys R Us claims the closures are due to COVID, telling the AP they "made the strategic decision to pivot our store strategy to new locations and platforms that have better traffic."
Gonzalez helps give some context on whether or not the closures were completely COVID-related, if this reveals any more fundamental flaws in their strategy, and how experiential retail fits into big box retailers' strategies as the pandemic continues.
Follow us on social media for the latest updates in B2B!
Twitter – @MarketScale
Facebook – facebook.com/marketscale
LinkedIn – linkedin.com/company/marketscale
Latest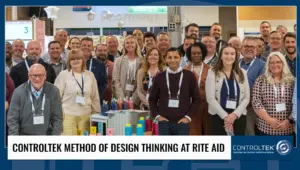 December 4, 2023
The video showcases a dynamic workshop titled "CONTROLTEK Method of Design Thinking at Rite Aid," highlighting the collaborative and innovative efforts between CONTROLTEK and Rite Aid teams. It features scenes of brainstorming, prototype development, and group discussions, emphasizing CONTROLTEK's customer-centric approach to problem-solving and innovation in retail solutions. The workshop demonstrates how cross-functional teams […]
Read More