Does the Key To Retail Sustainability Lie In Decision Intelligence
Summary:
Even with the National Retail Federation Retail's Big Show wrapping up, the lessons learned from this years convention will ripple through the rest of the year. With retail constantly changing how it needs to capture and retain the customer, finding new ways to implement the world's cutting edge technology to make the industry more sustainable, resilient, and dynamic should be a priority. Could decision intelligence be the next action item to maintain that dynamism and resiliency to disruptive trends? For perspective, we sourced Tom New, Head of Brand & Category at Peak, to give us three tips on how to become decision-intelligence driven.
A big part of decision intelligence is implementing AI. Continuing on that theme of implementing improving technology, that can also be applied to AI. According to a worldwide 2020 study from MIT Technology Review Insights, nearly 50 percent of retailers' AI usage was for things like customer care, quality control and inventory management. According to Fortune Business Insights, AI is expected to have an $18.48 billion market size by 2026 in the retail industry; it's clear AI is a tool that is not only growing in its adoption rate, but one that doesn't plan on slowing down its validation journey. We picked New's brain on how AI is continuing to change the decision making process.
Abridged Thoughts:
"First thing is AI ready data set. This is data from across an organization combined together, cleaned up and made ready to do amazing machine learning and item. The second thing is an AI built on that data, so we call that a centralized intelligence that sits across all of the businesses operations right and contained. It contains predictive data as well as the historical stuff. That's a really important point. The third and final piece is an interface, right? So we believe that intelligence isn't enough.
We need to empower commercial decision makers to be able to use that intelligence. So this interface allows line of business users commercial people to interact with that predictive data in order to guide and drive fast, accurate, great decisions all of the time.
Now, because the AI platform's decision intelligence platforms often sit looking at all of an organization's data, it's really well placed to help make very complex and difficult decisions about sustainability. And I think the thing that we want to impart that we want people to take away is sustainability is often framed as an additional concern rate, something new that businesses have to focus on and sits kind of separately from their day to day operations.
But we think the decision intelligence when helping to drive commercial decisions can impact sustainability without sacrificing a lot of the things that you were trying to do anyway. So we frame this as instead of thinking about profit or planet decision, intelligence allows you to balance profit and planet." -Tom Peak
More Stories Like This:
Latest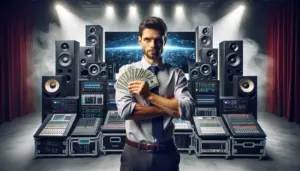 December 8, 2023
Mastering AV sales strategies in a global professional audio-visual (Pro AV) market, poised to reach $79.2 billion by 2028, requires much attention to detail. The surge in demand from corporate, government, and institutional sectors, driven by the need for enhanced productivity and efficient working environments, gives AV sales pros a lot of opportunity. In […]
Read More