How Will Sustainability Go Together with the "On-Demand" Economy?
Ohi's mission is to enable every brand to offer instant post purchase experience. Ben Jones, Founder of Ohi, chatted with Melissa Gonzales about Ohi's origin and values.
Jones founded Ohi when he had an injury that left him bedridden, and he realized he couldn't order any of the products he needed and get them faster than within two or three days unless it was from Amazon. He created Ohi as a result. Ohi integrates into brand websites and runs data analytics to understand where demand is coming from and forward position inventory to micro warehouses. Micro warehouses are unused retail space where orders can be picked and packed.
Currently, Ohi covers 20 percent of ecommerce companies and exists in six cities. The goal is to reach 60 percent and 25 cities by 2022. Consumer hunger is driving the spread. "We've seen with COVID this real paradigm shift from consumers being happy with two-day delivery, maybe next day delivery, to really now an expectation of just getting everything straightaway." He continued, "That paradigm shifting consumer expectation isn't going to go backwards."
Sustainability is one of Ohi's core values. With increasing delivery speed comes more environmental damage. Ohi combats this by understanding what the consumer is going to buy beforehand and reducing packaging. Their packages are are tote bags because point-to-point delivery to and from micro warehouses is very short.
Looking forward, Jones said, "Ohi will get there slower, but we will get there in a way that is profitable and has longevity. But I really think we will get to a world where consumers will be able to order really from any brand that they like and get it in 15 minutes."
More Stories Like This:
Latest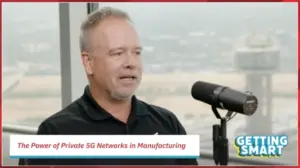 September 25, 2023
The Convergence of 5G and Automation in Manufacturing: A New Industrial Revolution The manufacturing industry stands at an inflection point. Advances in 5G technology and automation are coming together to transform the way products are made, and the role that humans and machines play in this process. Per Treven, Director of Business Development at Ericsson, […]
Read More