Kroger Will Sell Over 700 Stores
Competition is heating up in the grocery store industry. Performance expectations are on the rise, and grocery stores in the U.S. are reevaluating how they do business in an effort to stay relevant.
One major chain, The Kroger Company, has made a big decision toward that end, according to a recent Nasdaq report. The company has made a deal to sell its convenience stores so that it may direct more energy toward its core operations.
In a reported $2.15 billion deal, the chain will sell over 700 stores—those operating as Turkey Hill, Loaf 'N Jug, Kwik Shop, Tom Thumb, and Quik Stop—to an England-based convenience store company, the EG Group. It will hold onto its Turkey Hill Dairy stores and its fuel centers, however.
With unpredictable food prices and extreme competition in the industry, the decision makes sense, especially in a climate characterized by bold moves, such as the recent Amazon deal to take over Whole Foods. Kroger reportedly plans to use the sales profits to expand its store base, roll out new items, rejuvenate its digital coupon system, and develop its online order/store-pickup service. The company will also rev up its Scan, Bag, Pay & Go and Self-CheckOut programs, now piloted at 20 stores, in its nearly 400 locations in 2018.
These moves will likely pay off big for the company, jumpstarting its performance and driving stock prices, in an environment that demands that grocers go big or go home.
Latest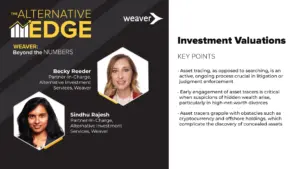 December 4, 2023
In this episode of The Alternative Edge, a Weaver: Beyond the Numbers Podcast, host Becky Reeder, an audit partner and co-leader of the alternative investments practice at Weaver, engages with Sindhu Rajesh, an Alternative Investment Services Partner with Weaver. They unpack the complexities of venture fund valuations, offering critical insights into industry dynamics and best […]
Read More