Outdoor Retailer Winter Market Kicks Off in Denver
The Outdoor Retailer Winter Market show opened Thursday, Nov. 8 to a slew of excited vendors and businesspeople alike. Outdoor Retailer, taking place in Denver, Colo. is the largest premier business event and trade show in its industry in the United States. This year, hundreds of brands and speakers will be onsite showcasing the latest outdoor gear and technology, informing attendees about the developments at the forefront of outdoor trends this winter season.
Some of the biggest brands in outdoor apparel and equipment will be on display at the Winter Market Show. Among the exhibitors slated to appear at this year's show are major apparel providers like Adidas Outdoor, Helly Hansen , Klean Kanteen and fabric producers including CORDURA Fabrics, Schoeller, and W.L. Gore & Associates.
However, a lot of the excitement for this season's show revolves around a media deal with A+E Networks to produce short-form programming from Outdoor Retailer's inaugural Outdoor Retailer Innovation Awards.
The award show highlights some of the latest innovations in technology and gear in the outdoor industry. Through the broadcast partnership with A+E, the network will produce content featuring interviews with different brands honored in the awards show, which will air as part of the "All You Need to Know" programming strand within the Outdoors block on FYI and HISTORY channels.
The first day of the Winter Market is packed with several panels and discussions beyond the night's award show. To kick off the event, a talk on the future of the outdoor retail industry in the age of e-Commerce with keynote speaker Leslie Ghize from trend forecaster the TOBE Report.
Artificial Intelligence will also be in the spotlight. Fidelitas Development CEO Tyler Sickmeyer will go in-depth on the impact AI is having on email and content marketing, SEO, and social media for retailers—and how outdoor industry marketers can take advantage. There will also be a pair of panels on the relationship between Amazon and its impact on outdoors retail businesses, specifically how they can collaborate and compete online in both sales and advertising with the e-Commerce giant.
One of the most important speaking events for the first day features University of Colorado researcher Dr. Callie Rennison.
Dr. Rennison, along with several industry leaders, strategists, and data scientists will participate in a roundtable discussion centered around the issue of sexual harassment in the retail industry.
The stage is set to make the last Outdoor Retailer show of the year the biggest one yet. Everything will be on display, from advancements like PrimaLift Bio, a new biodegradable synthetic insulation, to all-encompassing panels on issues that matter. Needless to say, there is going to be something for everyone to enjoy at this year's Outdoor Retailer Winter Market.
Latest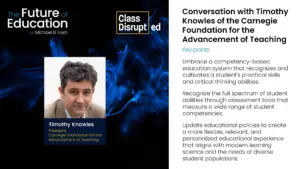 December 4, 2023
What approaches must education take in advancing teaching in a post-pandemic world? How can traditional education reshape itself to include a more dynamic, skills-based learning approach? As educational paradigms shift towards nurturing adaptability and critical thinking, leaders in the field are poised to redefine the learning framework to prepare students for a rapidly evolving […]
Read More