The Pet Food Industry is Rapidly Growing: Can your secondary packaging line keep up?
In the pet food space, food is more than a convenient means to feed the family dog or cat. Today, pets are family, and people want nothing but the very best in high-quality food they can afford. Pet food is a competitive space, and there's no shortage of innovation and evolution to offer our furry friends. According to a recent survey published in Pet Food Processing, pet industry executives say growth is in the forecast for 2020:
63% of pet industry executives plan to grow existing product lines
61% plan new product launches
27% plan to offer additional packaging formats
When marketing comes forward with a new product or a retailer issues new packing and size requirements, production must be ready to pivot, adapt and have the line up and running. Part of the challenge is optimizing your secondary packaging line. Today, secondary packaging has to do more than simply protect the product during shipping. "Secondary packaging is now part of the display," says Brad Hanke, Regional Sales Manager for the north central region at Douglas. "From printed shrink wrap to printed perforated tear-away display cases, secondary packaging has found its way into the customer experience. With all these considerations, your secondary packaging line has to be ready to do it all. "Everyone wants secondary packaging equipment that's flexible and versatile so they can do lots of different products and changeover very quickly, because downtime costs money," says Hanke. "Not only that, but they need the equipment to run as fast as they need it to." Here's a look at the secondary packaging challenges pet food producers face, and how a well-designed secondary packaging line can help.
Specific retailers have secondary packaging requirements
Even if the same product is distributed to two different retailers, it may go out the door in two or three types of secondary packaging. Below are examples of secondary packaging for canned dog food and the retailers they'd accommodate.
Shrink wrap over a cardboard tray or pad for club/warehouse retailers.
Microperforated display trays for big-box retailers, custom fit for the shelf.
Heavy paperboard containers for manufacturers looking to enter the e-commerce business, shipped directly to the customer.
Retailers are also requesting specific pack patterns
Whether the required pack pattern is single-facing, dual-facing or triple-facing, the retailer is looking to gain the ability to simply open the container right on the sales floor with the product perfectly stacked, logo visible to shoppers in each direction. Today's machines can accomplish your specific pack patterns by rotating the packing case or the product itself to meet these requirements.
Fast, speedy changeovers
Dog treats are the fastest growing segment of the pet food market, according to an April 2020 report from PMMI, which means pet food producers will be looking at developing exciting new products in hopes of capturing the attention (and wallets) of pet parents. Can your secondary packaging equipment keep up with the changeovers? Today's machines let you accomplish changeovers in minutes, so when it's time to swap from small pouches to super-sized treat bags, your end-of-line machines will be running again in minutes. [Read Top changeover challenges for food and beverage manufacturers (and how to solve them)]
Ease of operability
For years, manufacturers have looked to automation as a solution for the lack of skilled or reliable workers. Now COVID-19 adds a twist to the situation. Automation is now part of the solution to building safe work environments. According to Pet Food Processing, COVID-19 could make investing in automated equipment easier to justify. Douglas designed the HMI specifically to make it operable for workers at any skill level. With minimal training, a novice can handle your secondary line, while your skilled machinists can focus on other tasks. One of the core competencies of Douglas is building innovative secondary packaging solutions for the pet industry.
—
Get in touch with a Douglas team member now to learn more about how our line of innovative secondary packaging solutions can be completely customized to your unique needs.
Latest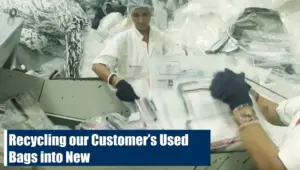 December 6, 2023
This video focuses on EcoLOK4, a groundbreaking product by CONTROLTEK that exemplifies innovation in sustainability. It highlights the process of transforming landfill waste into new deposit bags, with 90% of each bag's material being repurposed trash. This initiative not only reduces waste but also closes the sustainability loop, demonstrating CONTROLTEK's commitment to environmentally friendly […]
Read More