Restaurants Should Engage in Partnership Marketing to Engage Local Communities
Partnership Marketing might be a force to be reckoned with. "What are the big trends in the restaurant industry?" Plug this question into Google or ChatGPT and you'll see hits for organic and plant-based foods, fast-casual dining, and technologies like at-the-table tablets, self-serve options and automation. While these are certainly noteworthy developments that restauranteurs should keep abreast of, partnership marketing is a growing point of emphasis for restaurants seeking to maximize engagement with their local communities and clientele.
According to Barbara Castiglia, Executive Editor at Modern Restaurant Management and Host of The Main Course, "partnership marketing" is a bit of a catchall term that applies to numerous marketing initiatives in the restaurant space.
Barbara's Thought's:
"Hi, this is Barbara Castiglia of Modern Restaurant Management. I've been getting a lot of trends and outlook information lately and something intrigued me so I looked more into it to find out what it was and it turned out that it's something that people have been doing, but should be doing more of.
What partnership marketing has really involved is teaming up with complimentary businesses, teaming up with charities, teaming up with local organizers. Teaming up with anybody that makes sense to bring new people to your business, to reinforce who you are, and to your brand mission.
For instance, if your team is with a local charity it'll, reinforce who you are and what your values are. A lot of, brands are doing this and have been doing this where they work with school organizations to do fundraisers and it's just a great way to be part of the local community.
Another great marketing partnership is local sourcing. And working with local purveyors it's another way that you can just connect more with people and also allows businesses to be really creative, to come up with ideas of who they can team with and who they can partner with.
If you have a great dessert and another restaurant doesn't offer desserts, maybe you know there's a way you can team up on that. It's a really great idea, particularly now when people are looking for ways that they can market that doesn't necessarily cost a lot of money, but is still going to bring in people and bring in excitement and engagement.
We could tell at this time of year when people are feeling very charitable teaming up with a local organization is a great way to strengthen your commitment to the community. So I think that this one trend is one we'll keep seeing and will continue to flourish. So get to it and get teaming up with people right now."
Latest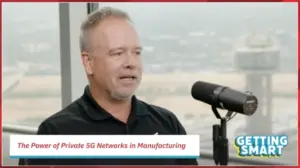 September 25, 2023
The Convergence of 5G and Automation in Manufacturing: A New Industrial Revolution The manufacturing industry stands at an inflection point. Advances in 5G technology and automation are coming together to transform the way products are made, and the role that humans and machines play in this process. Per Treven, Director of Business Development at Ericsson, […]
Read More