Shipping Services Gear Up For Amazon Prime Day
It is a hot day at an ordinary local UPS store on North Miami Beach's Collins Avenue, but it is about to get even hotter. Amazon Prime day, the global online superstore's mega sale, is expected to be bigger than ever this year. With over a million deals going live for 36 hours on July 16th, postal and courier services are preparing for a grueling onslaught of two-day shipping demands, thanks to Amazon Prime's quick shipping options.
Despite over $3.4 Billion in projected sales, translating to thousands of extra packages over the two day period, the employees at this busy local UPS, a company that offers special rates to Amazon sellers, did not seem worried at all. FedEx employees felt similarly prepared.
"They bring them in, we ship them out," a UPS employee told MarketScale about the company's mindset in advance of Prime Day.
Amazon Prime Day, the special sales event exclusively for Amazon Prime members, has been going on for 4 years now and has virtually become a national holiday, growing exponentially in participation and sales revenue each year.
In fact, this years projected $3.4 billion in sales is a 41% increase over last years still impressive $2.41 billion, which was in turn a 60% increase from the year before. While these are impressive growth numbers, it is perhaps even more impressive that for these 36 hours, Amazon has over 70% of the market share, versus their usual 40%.
The reason for this unbelievable growth is that households with Prime memberships, and therefore access to Prime Day deals, now make up a staggering 45% of US households. That's right; nearly half of the United States will be able to take part in a 36 hour, mail order shopping frenzy.
One would think that the brunt of this would fall upon the postal and courier service workers but, fortunately, they seem to feel well prepared. Still, despite their nonchalant optimism, the delivery services have their work cut out for them on Monday.
Latest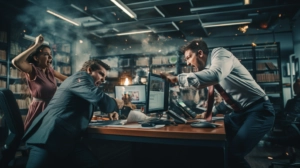 September 22, 2023
The kind of news that is delivered everyday serves as a grim reminder of the escalating violence across the U.S. Evidently, the need for proactive measures to ensure safety has never been more pressing. Such violence is not limited to any particular locale. It's actually permeating in so many different areas once considered […]
Read More