The Benefits of Active Case Squaring
Is container collapse the root cause of your damaged products? After confirming that the corrugated cardboard is the appropriate strength for your product, one area of improvement may be box construction.
Whether case building is done manually or by machine, one thing that often gets missed in the secondary packaging is skewed corners, with angles that aren't quite right. It's difficult for humans to square up the packing cases with the naked eye (without losing speed), and few mechanical case erectors are designed with a fail-safe to ensure each corner is perfectly square before it's sealed and rolls off the line. The result often shows up on the pallet, as the never-quite-even stack emerges.
Are you sending out skewed containers?
According to Packaging World as much as 11% of shipments arrive at distribution centers with at least some case damage; even though the average is 2%, finding ways to reduce that figure can save you a bundle in the long run. That's why when it comes to choosing the right automated case erector for your secondary packaging module, speed isn't the lone consideration. Precision squaring of the cases is critical.
Low-quality cardboard, improper handling, failure to stabilize the load in transit, and exposure to excessive humidity all can result in fallen, punctured containers and damaged goods that the retailer can't sell. Some of these things are beyond your control. But skewed corners on shipping containers doesn't have to be one of them. You can eliminate some of the risk of container failure with smart automation features such as active box squaring.
Why do boxes need a good square? Corrugated cardboard is designed to handle a certain amount of weight and pressure. But the formula works best when the box is properly built and assembled as designed. When a variable such as an off-kilter box angle enters the picture, that can lead to uneven distribution of pressure, thereby reducing the container's compression strength.
How does active box squaring work?
Unlike standard machines, INSITE Packaging's case erector takes a couple of extra steps to make sure each and every case rolls off with perfectly squared corners.
First, a pair of photo eyes scan the edges of the case, checking the angles of the corner before sealing. If that corner is off-kilter, one of the side belts guiding the box responds with a burst of speed to align with the other belt and adjusts the squaring before it's sealed. That ensures when the box rolls off, ready for packing, it has nice, even corners.
When you can build shipping boxes with this level of machine precision, "everything just works better up the supply chain line," says Paul Grussing, a technician at INSITE Packaging.
Boxes stack more evenly and securely on the pallet, decreasing the likelihood (and danger) of pallet collapse. The walls of the container are less likely to bow and bend. Month over month, you'll see a positive impact on your per-unit cost.
A well-built box has more impact than you would think! Contact INSITE Packaging today and start seeing the benefits on your line.
For the latest news, videos, and podcasts in the Retail Industry, be sure to subscribe to our industry publication.
Follow us on social media for the latest updates in B2B!
Twitter – @MarketScale
Facebook – facebook.com/marketscale
LinkedIn – linkedin.com/company/marketscale
Latest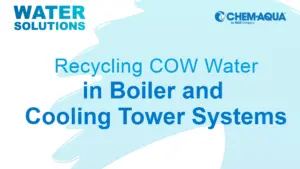 December 7, 2023
For the latest episode of ChemAqua's Water Solutions podcast, the focus was on an innovative approach to water conservation in the dairy industry. The show examined the potential of reusing Condensate of Whey (COW) water, a byproduct of dairy processing, and highlighted some of its economic and environmental benefits. Hosted by Dani Waddell, the informative […]
Read More