The Driving Forces Behind the Retail Digital Transformation
Designed for retail leaders and lovers alike, Retail Refined explores the in-store technology of the future, challenges the industry's preconceived notions, and brings together retail's biggest names to understand the brand strategies that will define the next decade in retail.
What's driving retail digital transformation post-pandemic? There are two main categories—customer interaction and transaction enablement, both of which are solutions of NCR. Their Retail President and General Manager David Wilkinson spoke about both with Retail Refined's host Melissa Gonzalez. NCR is over 100 years old, with its roots in cash registers and ATMs, now focusing on enterprise technology solutions.
"What's driving convenience an ease of life." – David Wilkinson
Wilkinson explained, "We have three primary businesses, banking, restaurants, and retail. Our role is to the core technology behind the scenes so our clients can focus on being a good retailer."
Wilkinson pointed out that the retail technology stack has been behind. "There was an underinvestment in IT, and now there is new investment for consuming-facing applications, but you have to update the core," he said.
The pandemic caused some major acceleration in technology adoption by retail with online ordering, BOPIS (buy online pick up in-store) operations, and mobile payments. Wilkinson thinks what will stick post-pandemic is "what's driving convenience an ease of life." However, he believes people want to return to shopping in-store, but there will be a melding of the worlds enabled by technology.
Ultimately, what will make the difference is for a retailer to offer a seamless experience no matter the environment or channel. The challenges and opportunities ahead will be how to operationalize these processes that integrate technology to increase ROI for their mobile app or self-checkout. Retailers need to answer the behavior changes of consumers while also engaging them and continuing to build loyalty, whether they are online or in-store shoppers.
Follow us on social media for the latest updates in B2B!
Twitter – @MarketScale
Facebook – facebook.com/marketscale
LinkedIn – linkedin.com/company/marketscale
Latest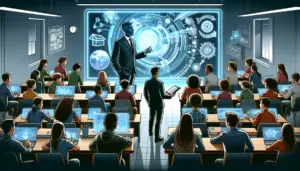 November 27, 2023
In an era where education stands at the crossroads of tradition and innovation, the potential value of thought leadership becomes the guiding star for progress. "Just Thinking" dives into this potential with host Kevin Dougherty and guest Evan Edwards, a Professional Learning Specialist at 806 Technologies who exemplifies the transformative impact of visionary guidance […]
Read More