The Retailers Winning By Selling More Than A Product
Providing "TV that takes the edge off." That is the stated goal of the BrewDog Network, recently launched by the wildly successful craft brewery, BrewDog. Co-founders James Watt and Martin Dickie started the craft beer company in 2010 through crowdfunding, and sales over the first few years have surpassed all expectations. With headquarters near Aberdeen, Scotland, the duo's American site debuted in 2017 on a 42-acre property in Columbus, Ohio.
The partners celebrated their success by creating a television show all about beer, but its run was cut short. That is when Watt and Dickie had the idea to create their own SVOD network, the BrewDog network, available via subscription, as a sort of tribute to all things beer-related, including food, travel, and tipsy misadventures.
BrewDog is not the only company venturing into other arenas to sell their wares. The public has also embraced the content marketing efforts of companies such as Casper Mattress, which at its inception less than a decade ago, did one thing, and did it well—make and sell mattresses in a simpler, less-expensive, more direct method than traditional mattress companies. Consumers quickly responded in the way of sales. Casper has sustained that growth by developing a content universe that features a blog about sleep issues and digital and print content revolving around comfort, wellness, and modern life. The company's Facebook presence is notable as well.
For companies like these, why venture into new territory? The answer in part depends on the personality of the company. Entrepreneurs are risk-takers at heart, and pioneering new terrain is part of the thrill of running a company. From a marketing perspective, it Is also good business.
Ron Faris, Head of Marketing at Virgin Mobile, one of first wireless communications providers to utilize social media marketing, explains: "Scaling our content efforts isn't just about expanding the size of our social reach across new platforms. It's also about deepening the level of engagement we have with our fans in the social communities they hang out in."
https://variety.com/2018/digital/news/brewdog-network-svod-streaming-video-1202916297/
https://overthinkgroup.com/casper-content-marketing-strategy/
http://brand-innovators.com/blog/2012/11/27/5-big-brands-confirm-that-content-marketing-is-the-key-to-your-consumer/
Latest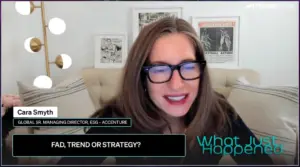 November 30, 2023
The world is in an era where sustainability and responsible retail business practices are increasingly crucial. For the latest episode of "What Just Happened," host Christine Russo further explored the hows and whys of this pressing issue by interviewing Cara Smyth, Global Senior Managing Director for ESG and Responsible Retail at Accenture, and Chair […]
Read More