Touchless Edge Technology is Shaping Retail & Advertising Engagement
In a world of a pandemic, social distancing, and contactless customer experiences, interactive touchscreens aren't generating engagement. Brands shouldn't count out interactive experiences. Haptic and touchless technology could be a game-changer. Marti Romances, owner and designer at Territory Studio, shares his experience with this opportunity.
Territory Studio is a leader in creating user interfaces for gaming, film, and digital experiences. The company has worked on movies like the Avengers franchise as well as collaborations with automakers, including GM
On applying real-world touchless design, Romances said, "It's about visualizing what's possible now. Working with Marvel, we're always reinventing, for example, with wider angles for user interfaces."
In his experience, haptic applications become viable as experiences become a mixed reality, including augmented and virtual. The limitations in touchless technology, right now, come down to the space. "We're limited by the amount of space for most screens because they're in our pockets," Romances added.
To reframe the future of touchless, COVID-19 may demand its acceleration. Interactivity is possible without touch.
Brands are using digital screens in public areas and stores to drive interaction. Much of this has been through actually touching the screen.
Brands don't have to discount this as a channel to connect with audiences. They just need to rethink it. The excitement around haptic and its necessity could make it more scalable, faster. "The idea here is to find applications that make sense. Participate without touching the screen," Romances stated. One idea is simple feedback when leaving an airport restroom. It's a simple yes or no if the facilities were clean. No one is going to touch a button. But they could wave their hand over the yes or now. That's the possibility of haptic.
Follow us on social media for the latest updates in B2B!
Twitter – @MarketScale
Facebook – facebook.com/marketscale
LinkedIn – linkedin.com/company/marketscale
Latest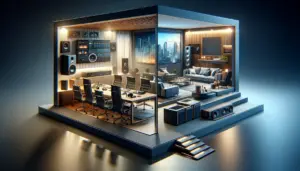 November 27, 2023
In this episode of "Pro AV Today," host Ben Thomas sits down with Audra Kinsley of Sonos Professional to unpack a topic that's causing (sound) waves in the audio industry: the fusion of commercial and residential audio systems. As we navigate through a landscape where consumer and professional audio worlds are increasingly intersecting, Sonos steps […]
Read More