Walmart Announces Partnership with DroneUp to Make Mass Drone Deliveries a Reality
Bentonville, AR – Retail giant Walmart recently announced a partnership with DroneUp intended to make it the premier retailer for drone deliveries.
The partnership backs up a similar joining in April of the retailer and Cruise, an all-electric autonomous vehicle company, that will also change the delivery landscape.
The drone program will begin to take flight in Bentonville over the coming months, though, if all goes well and the public opinion of drones stays high, the timeline for expansion to more of the retailer's 5,000 nationwide stores could be accelerated.
Late last year, DroneUp partnered with Walmart and Quest Diagnostics to deliver at-home COVID-19 self-collection kits. Those trial runs in select locations led to an accelerated timeline for the implementation of more widespread delivery.
"This news sets the stage for the drone wars to really heat up. This move sets up Walmart to become the major retailer for drone deliveries, and customers will be able to receive orders in record time," said Grant Guillot, host of MarketScale's Drones in America.
According to its website, 90% of Americans live within 10 miles of a Walmart store or Sam's Club, which has established a major opportunity for Walmart to make drone delivery part of Americans' everyday lives and redefine delivery standards in an age of elevated consumer expectations for speed and efficiency.
From a legal perspective, all deliveries via drone must currently be flown under FAA Part 107, which means the pilot operating the vehicle must maintain line of sight at all times.
There has been recent buzz around Walmart's drone platform prototype in Arkansas, which would provide a stable and permanent structure that would lift the pilot's eye line and enhance the ability of the pilot to see the drone.
Last week, as part of the FAA symposium, administrator Steve Dickson stated that the organization is forming a new panel that will produce rules for drone flights to operate beyond line of sight. These rules would set the framework for deliveries based on the range of the vehicle being used, not the eyesight of the operator. DroneUp has been invited to participate on this committee and share the lessons they have learned through early delivery efforts.
Currently, the most feasible way to operate a drone beyond visual line of sight is by obtaining a Part 135 certification, which can take multiple years.
Establishing concrete rules for this type of flight would unleash the full economic possibilities drones can provide the economy and private industry.
Walmart's drone deliveries will begin in the coming months and will be focused on simple, lightweight items. As technology and policy progress, the eventual goal would be for a retailer to deliver an entire grocery cart to a consumer's doorstep.
Guillot will join Daniel Litwin for a live press conference at 12 p.m. Central to discuss the potential impact of this partnership and answer questions regarding its impact on the future of drone delivery.
Follow us on social media for the latest updates in B2B!
Twitter – @MarketScale
Facebook – facebook.com/marketscale
LinkedIn – linkedin.com/company/marketscale
Latest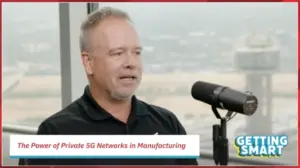 September 25, 2023
The Convergence of 5G and Automation in Manufacturing: A New Industrial Revolution The manufacturing industry stands at an inflection point. Advances in 5G technology and automation are coming together to transform the way products are made, and the role that humans and machines play in this process. Per Treven, Director of Business Development at Ericsson, […]
Read More