Watch: Target to Test New Distribution 'Flow Center'
Retail giant Target is testing a new distribution strategy aimed at speeding up its distribution and restocking, in an attempt to compete with Amazon and Wal-Mart. A new 'Flow Center' is designed to trim down inventory and tailor it for each individual brick-and-mortar store.
Target is putting a greater emphasis on digital retail and is investing $7 billion in store and digital improvements to improve delivery times to customers. In 2017 the company bought grocery delivery startup Shipt for $550 million to increase same-day delivery capabilities. The 'Flow Center' is currently being piloted in a New Jersey Target location.
Latest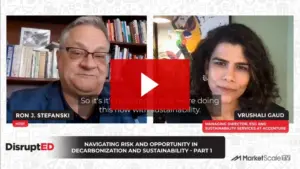 September 26, 2023
The global conversation has shifted dramatically towards decarbonization and sustainability in recent years. With the world experiencing unprecedented levels of disruption, from 5G technology to the challenges of a pandemic, the urgency to address climate change and its implications has never been more palpable. Although most business leaders see the vision of Sustainable Development […]
Read More