What the NRF Innovation Lab Tells Us About the Future of Retail
The National Retail Federation is preparing for its annual 'Big Show', taking place Jan. 12-14 in New York City.
The biggest brands in global retail will be in attendance to discuss the latest innovations and market forces. While companies the size of Amazon and Alibaba may receive the most attention, perhaps nothing can give a truer assessment of the state of retail like a startup can.
Back again at NRF's Big Show this year is the Innovation Lab, a showcase of tech-oriented retailers with product offerings new to market within the previous two years.
David Matthews, Managing Director of RevTech Ventures in Dallas, Texas is a member of the Innovation Lab advisory board, which curates the companies which present. RevTech Ventures is a venture capital fund that invests in early-stage startups at the intersection of technology and retail.
Matthews joined MarketScale to discuss the climate for retail innovation today, as well as what to expect from the upcoming conference.
Be sure to follow MarketScale for full coverage of NRF 2020 next week!
Latest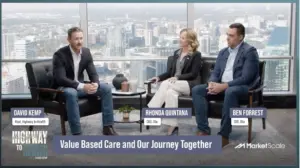 December 7, 2023
As of recent times, the healthcare industry has been progressively shifting towards value-based care, a model that emphasizes patient outcomes over the quantity of services delivered. This transition represents a significant shift that promises to enhance patient experiences and outcomes while controlling healthcare costs. With a growing emphasis on this approach, especially over the […]
Read More