Why Smaller Fulfillment Centers are Growing in Popularity
E-commerce giants have changed the way consumers have received products, and over the last five years they have made a significant impact on the real estate market as well. According to research from commercial real estate firm CBRE Group, rents for warehouses between 70,000 and 120,000 square feet rose by 33.7 percent in the past five years. The average price is now $6.67 per square foot, CBRE says.
Availability for these smaller warehouses also shrunk from 11.3 percent to 7.4 percent in the same time frame. E-commerce companies are putting a larger focus on smaller distribution centers to increase speed of delivery to customers. Also adding to the rise in price is competition from other interested renters in these locations like apartment complexes and other commercial developers. These players are not typically a factor in areas where large warehouses are typically built.
On Business Casual, hosts Tyler Kern and Geoffrey Short looked into the logistics landscape and broke down what this development means for consumers.
Latest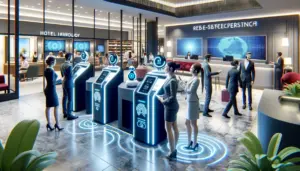 December 8, 2023
Facing critical staffing shortages, over 80% of hotels struggle to fill positions despite offering higher wages and flexible hours, as reported by a recent American Hotel & Lodging Association survey. While slightly improved since May 2022, this situation highlights a significant challenge in the hospitality industry, with housekeeping roles being the most urgently needed. […]
Read More