Nokia Today: 5G Networks Are Worthy of the Hype
There is always a bit of hype surrounding the deployment of each new wireless generation. There certainly was with 3G and 4G. But did these upgrades deliver on expectations? Many people might say the results did not live up to the hype. So, what are we to expect with 5G, which is starting to unveil itself? Mike Murphy, CTO for Nokia Americas, thinks this time around, the hype may be worth it.
For those wondering when 5G networks will arrive in their area, Murphy said rollouts in the US began as early as 2018, moved into 2019, and will continue in 2020. What's different about 2020 is more devices are rolling out this year that support 5G.
"This year, people expect the iPhone 12 to come out and support 5G, as well as some low-tier and mid-tier devices," Murphy said.
Throughout the next couple of years, as 5G coverage increases throughout the U.S. and beyond, people can anticipate increased speed, as well. Murphy believes the tipping point for 5G coverage taking over should arrive by 2024. What surprises and pleases Murphy about 5G is the speed in which it is deploying globally.
"If you look at 4G, from the first launch by an operator to the last launch, the gap was 28 months. In 5G, it's two months," Murphy said.
Due to the economic benefits in both job growth and capital expenditures, countries are in a race to deploy 5G.
Beyond faster speeds, Murphy believes 5G has all the right technology components to realize exciting features such as robust apps. Will augmented, and virtual reality infiltrate the world of devices in the coming years? With the onset of 5G, it could very well happen.
Be sure to subscribe to Nokia Today on Apple Podcasts and Spotify.
Latest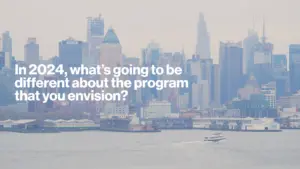 December 1, 2023
In the dynamic telecommunications landscape, Verizon's Partner Network continues to evolve, adapting to new trends and opportunities. For another segment featuring Mark Tina, VP of Indirect Channel Distribution and Channel Chief at Verizon Business Group, he explores exactly what types of significant changes and advancements the Verizon Partner Network will see in 2024. In this […]
Read More