AI and Staffing: Can ChatGPT Find You a Job?
Has anyone ever really liked writing cover letters and resumes? While there is no denying their importance, the long process of tailoring cover letters, polishing resumes, and following leads is often just as much of a day job as the one you're looking for. Enter ChatGPT. More and more, job-seekers are using generative AI like ChatGPT to help them write those pesky cover letters and resumes.
In a new survey from resume template site Resume Builder, nearly three-quarters of job seekers surveyed on the site in January used ChatGPT to help them write cover letters or resumes. And the kicker? Almost 70% of those who used ChatGPT to help write those cover letters and resumes reported a higher response rate from companies. The intersection of AI and staffing clearly isn't just creating synergies for employers (with things like AI-powered resume filtering tools), but it's creating opportunities for job-seekers too. Unlike sci-fi stories, there is something about the formulaic, template-based style of modern cover letters and resumes that makes ChatGPT perfect for the job.
What does the future hold for AI and staffing? If employees are using generative AI to find a job, should companies keep using AI to create efficiencies in the hiring process, even as regulators crack down on the efficacy and ethics of AI hiring tools? For Scott Absher, CEO at flexible staffing and HR services company ShiftPixy, OpenAI is more than a tool for grabbing the attention of employers with snappy cover letters or for speeding up the recruitment process. OpenAI is a way to make better connections that reduce the workload of job hunting and employee hunting altogether.
Scott's Thoughts
"We're using OpenAI as a methodology for making better connections with the part-time labor markets. In the staffing industry the process of recruiting people and moving them to job opportunities is very laborious, all people driven and it causes a lot of friction and delays in that process. So, we're using OpenAI as our methodology for curating a large national workforce and putting them to work."
Article written by Graham P. Johnson.
Latest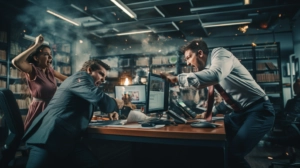 September 22, 2023
The kind of news that is delivered everyday serves as a grim reminder of the escalating violence across the U.S. Evidently, the need for proactive measures to ensure safety has never been more pressing. Such violence is not limited to any particular locale. It's actually permeating in so many different areas once considered […]
Read More