At the Intersection of AI and Art, a Debate Wages
AI and art. Are they the artist equivalent of the Reese's Cup, two great tastes coming together, or is Chicken Little trying to warn the art world that the sky is falling?
It's a debate and controversy that's sprung up over the past year, with artists and graphic designers raising concerns, and others seeing advancing AI-driven technology as a powerful tool-brush that can enhance and expand artistic possibilities.
Photo and art licensor Shutterstock recognizes the concerns and the possibilities. It is taking steps to bring AI into the fold, but in a way that compensates artists for their work. Shutterstock uses OpenAI-trained DALL-E 2 software to allow users to create AI-generated images from its imagery database and pay the artists of the original images. This approach brings its users the best of AI and art in an ethical way.
This approach may only solve some aspects of the debate, but it is a promising start. Where does AGB Enterprises' founder Alex Bell find himself in the mix of this debate?
Alex's Thoughts
"AI has the potential to let interfaces become spoken word instead of things that you have to learn how to do. Instead of being in Photoshop and needing to know exactly how to remove somebody from a photo, you can say, hey, remove this person from the photo and have it done for you by computer.
Can it help build communities? I think so, and it will let a lot more people do a lot more creative things and is capable of doing it because it lowers the barrier of entry to making creative works."
Latest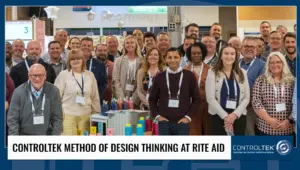 December 4, 2023
The video showcases a dynamic workshop titled "CONTROLTEK Method of Design Thinking at Rite Aid," highlighting the collaborative and innovative efforts between CONTROLTEK and Rite Aid teams. It features scenes of brainstorming, prototype development, and group discussions, emphasizing CONTROLTEK's customer-centric approach to problem-solving and innovation in retail solutions. The workshop demonstrates how cross-functional teams […]
Read More